By Edmund Xu and Robert Kim
January 11, 2023
---
Luxury American, European, and other global fashion brands have been customers of Zhejiang Sunrise Garment Group Co., Ltd., a Chinese textile manufacturer recently subject to a U.S. import ban following an investigation by the Customs and Border Protection (CBP).

CBP announced in December 2022 that it had begun detaining merchandise produced by Zhejiang Sunrise at all U.S. ports of entry, citing the use of North Korean forced labor in its supply chain. Indicators of potential ties between the company and forced labor from North Korea and in China's Xinjiang Uyghur Autonomous Region date back several years.

Indicators of North Korean Forced Labor Risk

Zhejiang Sunrise purchases materials and services from Youngor (Hunchun) Co., Ltd., a Chinese company based in the city of Hunchun, a hub for trade with North Korea situated on the border. Zhejiang Sunrise purchased clothing accessories and paid for processing and labor services from Youngor Hunchun from 2018 until early 2022, according to company disclosures reviewed by Kharon.

Youngor Hunchun operates Youngor (Hunchun) International Garment City, a sprawling factory in the Hunchun area capable of producing millions of articles of clothing, according to a company statement. Part of Youngor Clothing Holdings Co., Ltd., a Chinese conglomerate with textile factories across China, Youngor Hunchun built its factory to use North Korean labor due to their low cost and superior quality, according to a company manager. More than 3,000 North Koreans worked for Youngor Hunchun as of 2018, according to a report by the Charhar Institute, a Chinese think tank.

Indicators of Xinjiang Forced Labor Risk

Aksu Xinhao Textile Co., Ltd., a Xinjiang-based company in the city of Aksu near China's border with Kazakhstan and Kyrgyzstan, is another supplier to Zhejiang Sunrise. From 2018 through 2020, Zhejiang Sunrise purchased more than 115 million renminbi worth of yarn from Aksu Xinhao Textile, according to company disclosures.

Aksu Xinhao Textile is located in the Aksu Textiles Industrial City, whose enterprises engage in government-sponsored surplus labor transfer programs, according to a 2019 local media article. The U.S. government's Xinjiang Supply Chain Business Advisory warns that labor transfers and other poverty alleviation programs in industrial parks are indicators of forced labor.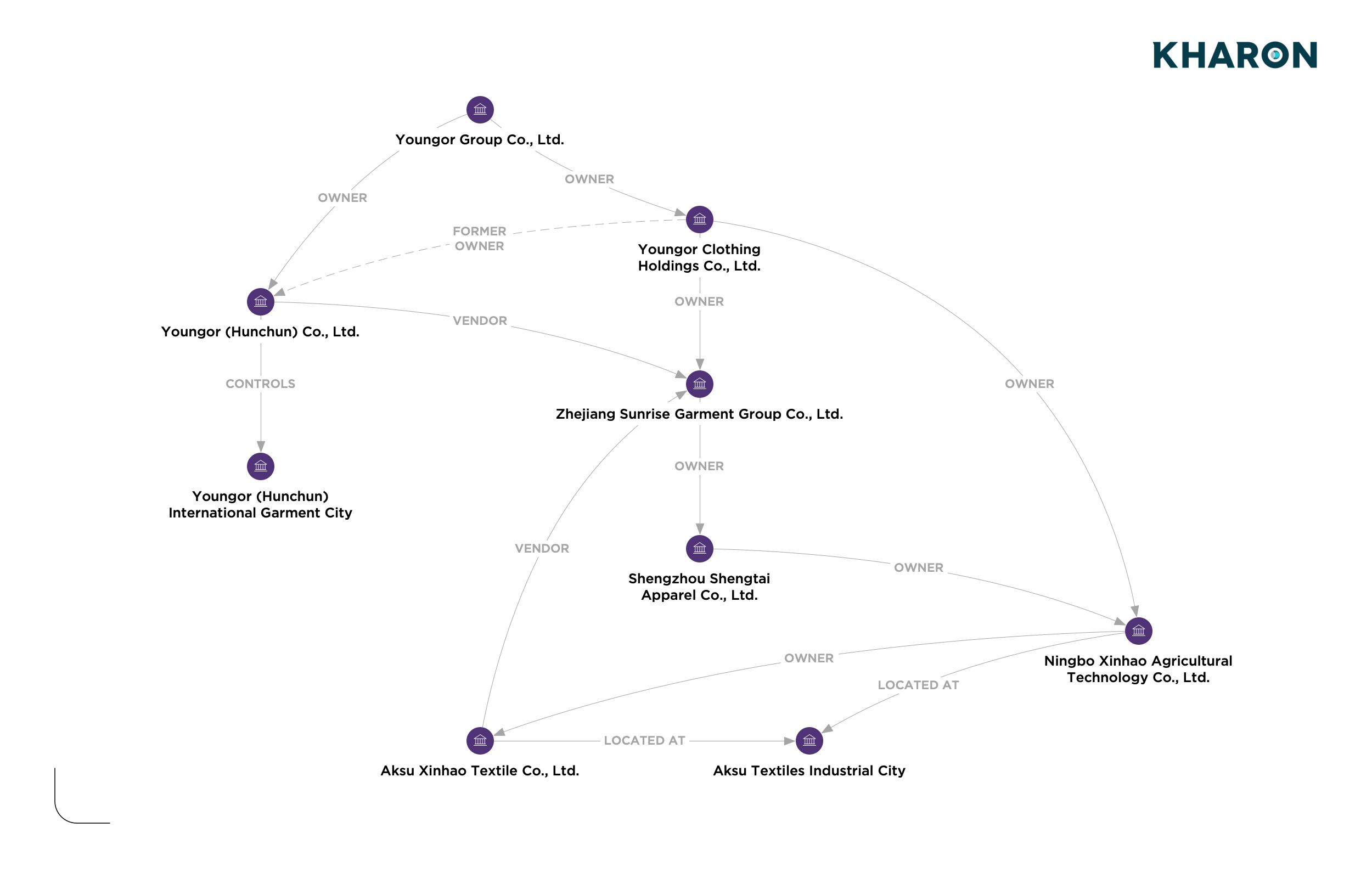 Related Insights

U.S. Announces Targeting of Hundreds of Millions of Dollars In Imports for Suspected Use of Forced Labor

Shipment to Uniqlo Seized by U.S. Amid Suspicions of Forced Labor

Companies Sanctioned by U.S. for Using North Korean Labor