U.S. prosecutors in Georgia unsealed new charges on Tuesday related to a scheme to evade sanctions by exporting a U.S.-made power turbine to a Russian state-controlled company.
The turbine was a Vectra 40G, which is designed and manufactured for integration with gas generators to enable direct drive of high power gas compressors, according to the indictment.
Though prosecutors and U.S. media reports didn't identify the intended recipient of the turbine, Russian media outlet Kommersant named the company: Gazprom Neft, which is subject to U.S. export licensing requirements, technology transfer prohibitions and debt financing restrictions in the U.S. and European Union. 
"This prosecution demonstrates the high priority the Department of Justice places on the enforcement of U.S. restrictions on exports to Russia's oil and gas industry," said Assistant Attorney General for National Security John C. Demers.
Gazrom Neft, a Russian oil company majority owned by Gazprom, sought the turbine for its Prirazlomnaya platform, the first Russian Arctic offshore oil project, Kommersant reported. U.S. export controls and sanctions directives prohibit the unlicensed shipment or transfer of turbines such as the Vectra 40G for certain Russian deepwater or Arctic offshore projects.
The Prirazlomnaya project produced 2 million tons of oil in 2018, Gazprom Neft said on its website. Production at Prirazlomnaya began in December 2013; a total of 32 wells are expected to be drilled by 2023, according to Gazprom Neft. Gazprom Burenie OOO and PO Sevmash AO, a majority-owned subsidiary of United Shipbuilding Corporation, have been involved in the Prirazlomnaya project, according to corporate press releases and Russian media reports. Gazprom Burenie was sanctioned in April 2018 for being owned by Igor Rotenberg; United Shipbuilding was designated in July 2014 for operating in the Russian arms sector.
The scheme to export the turbine involved dealings spanning companies in three countries, prosecutors said. They conspired to conceal the true end user of the turbine from both the U.S. manufacturer, and the U.S. government by submitting false documents saying the turbine would be used by a U.S. company in the Atlanta, Georgia, area.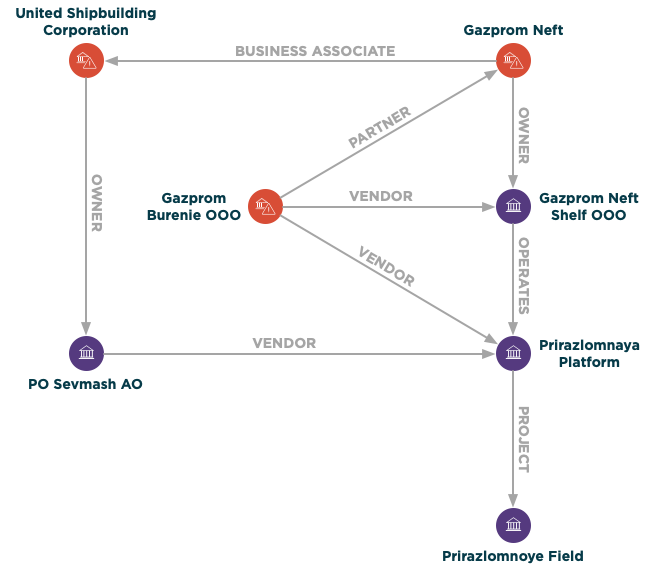 Gazprom Neft contracted with Oleg Vladislavovich Nikitin and his St. Petersburg, Russia-based company, KS Engineering, to buy a Vectra 40G power turbine for about $17.3 million from a U.S.-based manufacturer, according to prosecutors. Nikitin, KS Engineering and Anton Cheremukhin, a KS Engineering employee, hired Italy-based GVA International Oil and Gas Services (GVA) and its manager, Gabriele Villone, as well as Bruno Caparini, the commercial director of another Italian firm, to obtain the turbine on their behalf, prosecutors said. 
GVA, together with Villone and Caparini, in turn, employed Dali Bagrou and World Mining and Oil Supply (WMO), a Dacula, Georgia-based company, to procure the turbine and ship it overseas, prosecutors said. 
Nikitin, Villone and Bagrou were arrested in Savannah, Georgia, while attempting to complete the transaction and are awaiting trial, prosecutors said. The Russian embassy in the U.S. is in communication with Nikitin, according to a report by TASS. "The Russian national pleads not guilty. Since the Russian national was arrested by the local authorities in September, we also remain in regular contact with his relatives and his lawyer," the embassy said. 
Abigail Buhrman contributed to this report.