The U.S. on Wednesday imposed sanctions on Venezuela, Nicaragua and Cuba, with national security adviser John Bolton dubbing the leaders of those countries the "three stooges of socialism" during a speech in Miami.
In his speech on the anniversary of the Bay of Pigs operation, Bolton said the leadership of the three countries are starting to lose power. "The United States looks forward to watching each corner of this sordid triangle of terror fall: in Havana, in Caracas, and in Managua," Bolton said, referring to the countries as a "troika of tyranny."
The latest Venezuela sanctions blacklist Banco Central de Venezuela, as well as one of its directors, Iliana Josefa Ruzza Terán. Treasury Secretary Steven Mnuchin said that the move against the central bank was taken to prevent the institution from "being used as a tool" by Nicolas Maduro.
Maduro's inner circle "continues to plunder Venezuelan assets and exploit government institutions to enrich corrupt insiders," Mnuchin said.
The Treasury issued some licenses alongside its sanctions on Banco Central de Venezuela, which authorize certain transactions for humanitarian aid or remittances. "While this designation will inhibit most Central Bank activities undertaken by the illegitimate Maduro regime, the United States has taken steps to ensure that regular debit and credit card transactions can proceed and personal remittances and humanitarian assistance continue unabated and are able to reach those suffering under the Maduro regime's repression," Mnuchin said.
Ruzza Terán, a director of the central bank, was appointed in May 2018 as vice president of finance at the state-owned oil firm Petróleos de Venezuela SA (PdvSA), the Treasury said. She also was appointed in July 2018 as a director on the board for the Venezuelan Department of Foreign Commerce, according to the Treasury.
Several other Venezuelan central bank directors have already been sanctioned, including the Minister of Economy and Finance, Simon Alejandro Zerpa Delgado, and head of Venezuela's price control authority, William Antonio Contreras, who were designated in 2017 and 2018, respectively.
Several leaders of Banco Central de Venezuela hold senior positions in other key Venezuelan state-owned enterprises and government ministries. For example, three directors of Banco Central de Venezuela, Sohail Nomardy Hernandez Parra, Yosmer Daniel Arellan Zurita, and Ruzza Terán are also directors at Banco Prodem, S.A. Sohail Hernandez is on the board of directors of the Venezuelan Foreign Trade Bank, Bancoex, which has been identified by the U.S. Treasury as among the potential "vehicles to move, launder, and conceal embezzled corruption proceeds."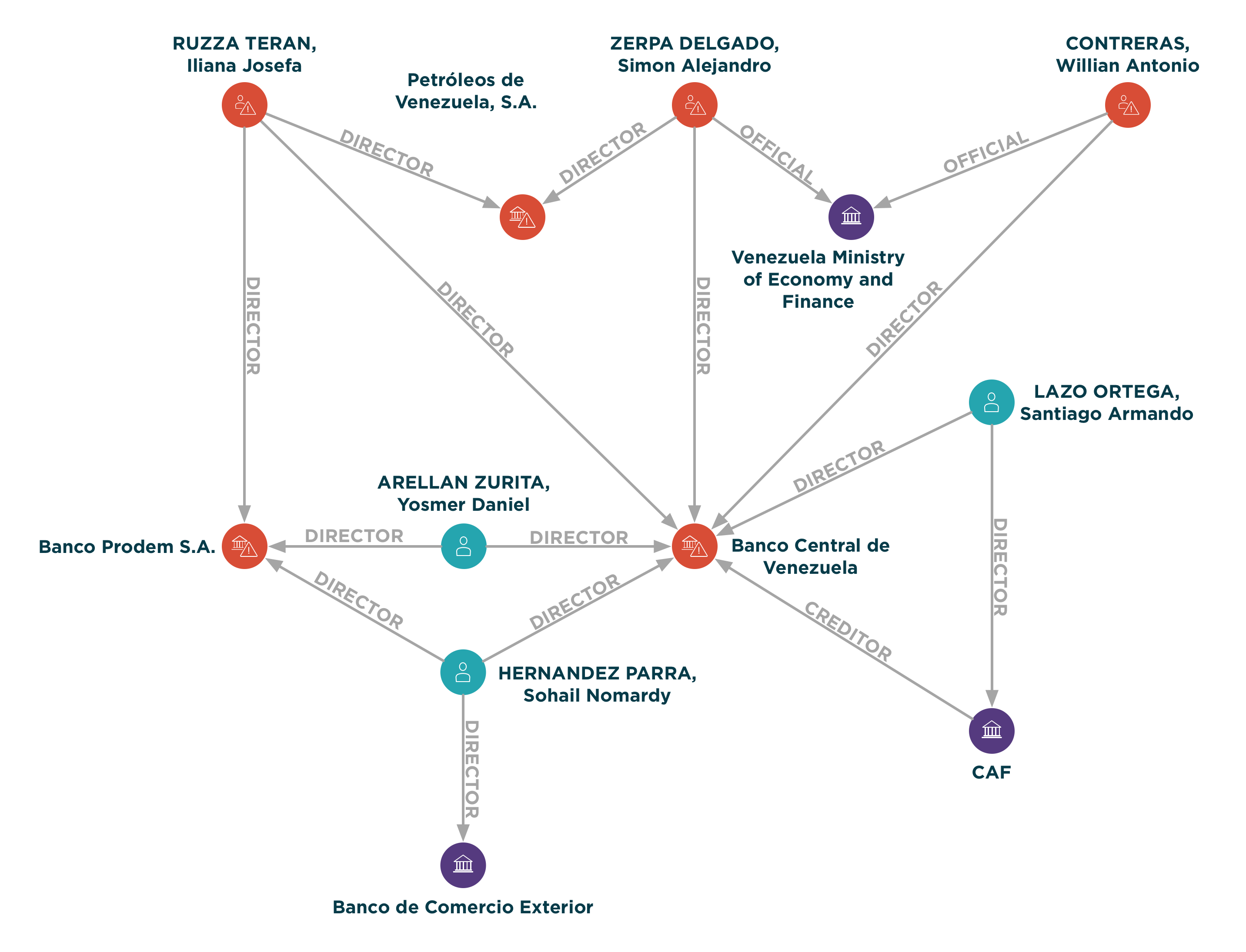 Another Banco Central de Venezuela director, Santiago Armando Lazo Ortega, is a director for the Latin American Development Bank, CAF. CAF approved a $500 million credit line to Banco Central de Venezuela in December 2018, according to Reuters.
In addition, the U.S. sanctioned Laureano Ortega Murillo, who is the son of Nicaragua's President Daniel Ortega and Vice President Rosario Murillo. Laureano Ortega Murillo serves as an investment promotion adviser for the government agency ProNicaragua and acts as "an extension" of his parents, the Treasury said. The State Department characterized him as "a key enabler" of the Ortega government's corruption.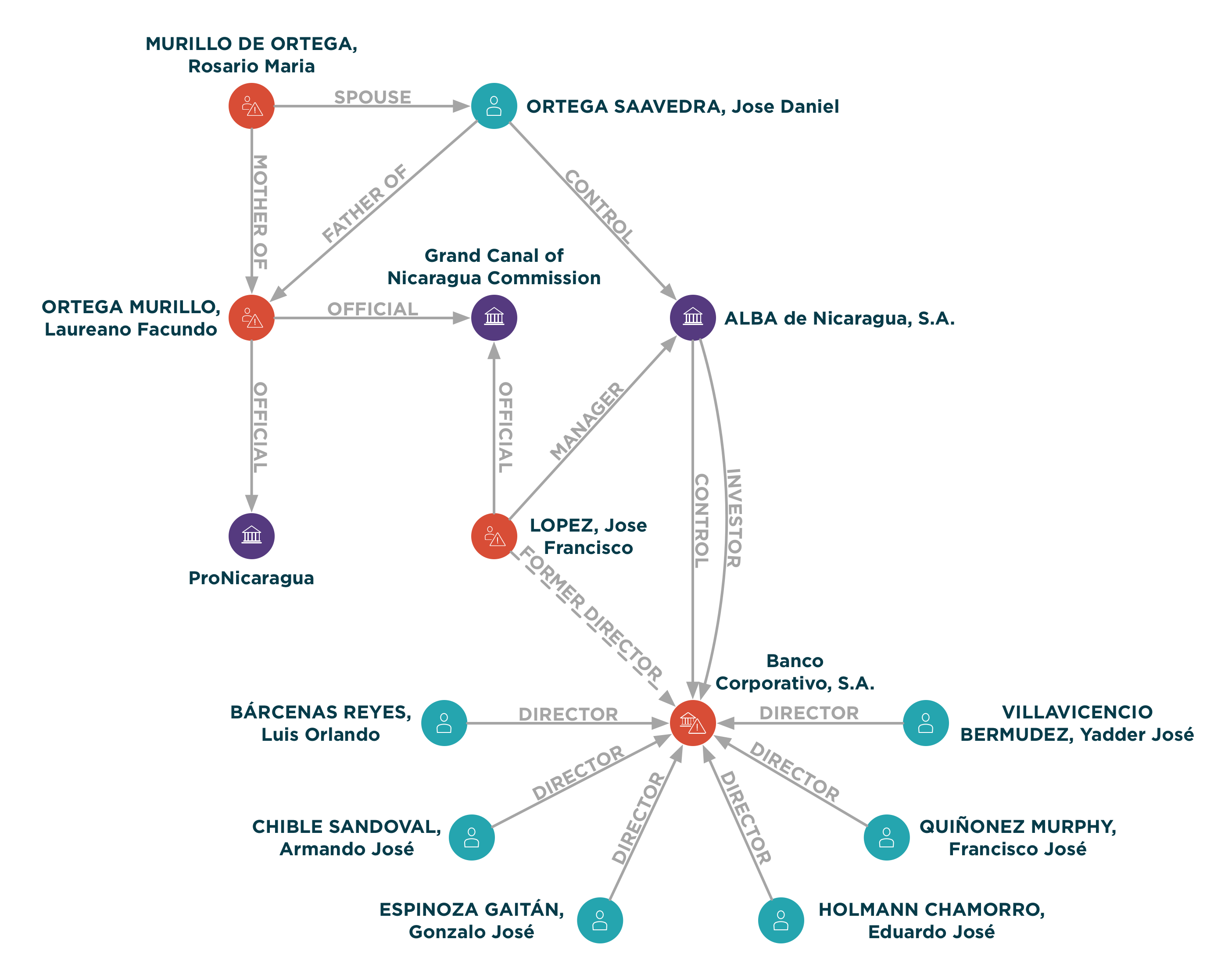 Laureano Ortega Murillo has engaged in corrupt business deals in which foreign investors paid for preferential access to the country's economy, according to the U.S. Treasury. He also was at the center of creating the stalled Nicaragua Grand Canal project, which government officials use as a means to launder money and acquire property, the Treasury said.
The U.S. also sanctioned Banco Corporativo SA (BanCorp), which is a lender created as a subsidiary to Alba de Nicaragua SA (Albanisa) and has been used by Ortega's government to launder and hide Albanisa money, according to the Treasury. Jose Francisco Lopez Centeno, who was sanctioned in July 2018 as a vice president of Albanisa, was previously listed as a director of BanCorp, according to local Nicaraguan media reporting.
Albanisa imports and sells Venezuelan petroleum products. BanCorp, as a subsidiary of Albanisa, is ultimately owned by PdVSA; an asset majority-owned by a sanctioned actor is considered blocked under a U.S. Treasury policy known as the "50 percent rule." As such, BanCorp had been blocked since the January 2019 designation of PdVSA, according to the Treasury.
Finally, the U.S. tightened limits on personal travel and remittances to Cuba, and added entities to its Cuba Restricted List, including the military-controlled airline Aerogaviota, Bolton said in his speech. As of Thursday, the State Department hadn't publicly listed the specific entities mentioned by Bolton. The moves follow a U.S. decision earlier Wednesday to allow Americans to sue foreign companies and individuals in U.S. court for operating on property seized during the 1959 revolution.
Daniel Harris, Claire Galasso and Kath Morris contributed to this report.