On October 25, 2018, President Trump signed the Hizballah International Financing Prevention Amendments Act (HIFPA) of 2018, which builds on existing sanctions against Hizballah by targeting the organization's global fundraising and recruiting activities, as well as actors who provide it with weapons.
Calendar year 2018 has thus far marked the highest number of Hizballah-related designations by the US Treasury Department in a single year, demonstrating the US government's focus on targeting the terrorist organization's global business and criminal enterprise.
Unlike other terrorist organizations, Hizballah—an Iranian sponsored terrorist group based in Lebanon—is a transnational for-profit enterprise. The organization maintains a global network of wealthy facilitators and businesses engaged in formal commercial activities in the United States, Middle East, and Africa.
Despite the increasing pressure on Hizballah, its sanctioned facilitators and their extended network of associates carry out commercial activities by establishing new business entities or setting up opaque supply chains for their business dealings. As the US puts a full court press on Iran and its proxies following its withdrawal from the Iran nuclear deal, it is likely to increasingly focus on Hizballah's evolving business networks.
Michigan Restaurant and Real Estate
Hizballah networks stretch to the US, where a relative and business associate of Hizballah facilitator Mohammad Ibrahim Bazzi operate real estate and restaurant firms. In May 2018, the US sanctioned Bazzi for providing funding to Hizballah generated from his business activities in Europe, Africa, and the Middle East.
Bazzi and his business partners owned multiple businesses in the US that have bought and sold real estate. The net equity of these businesses and properties "exceeds tens of millions of dollars if not more," according to a 2008 court affidavit filed by one of Bazzi's partners.
Bazzi owned Restaurant Leasing Pittsfield, L.L.C. and Global Restaurant Group Holding Company, L.L.C. in Michigan, according to the affidavit. The two companies are also owned by Bazzi's brother-in-law Ahmad Hodroj and business associate Fadi Mazegi."
In 2010, Bazzi's restaurant leasing company purchased a Michigan property that is co-located with the Palm Palace Restaurant, which is currently owned and operated by Ahmad Hodroj. Hodroj is also the president of Michigan companies that bought and sold real estate.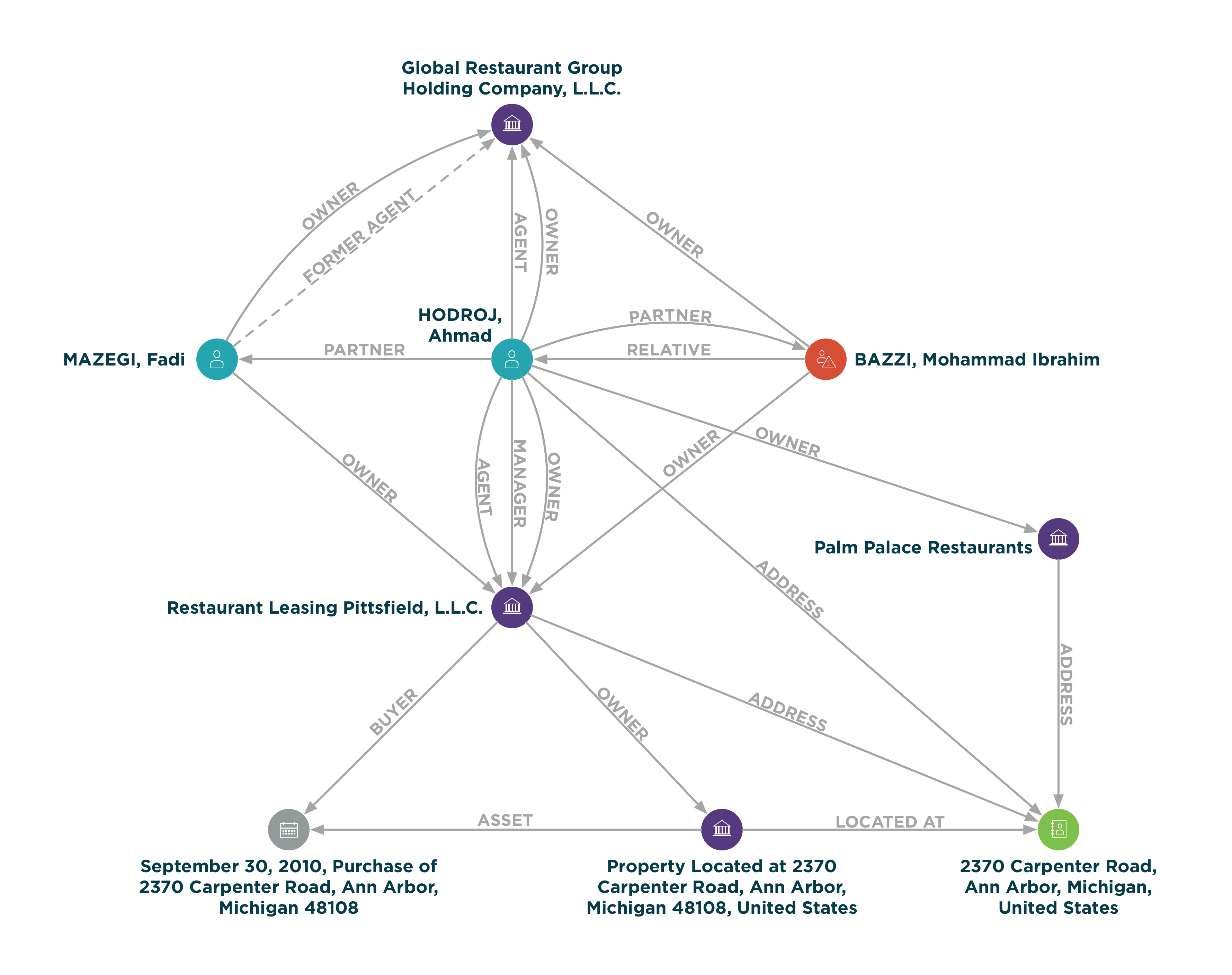 Lebanon Entertainment Centers
Another member of Bazzi's network, Adham Tabaja, was sanctioned by the US for facilitating Hizballah through his successful real estate businesses in Lebanon, which the organization used as an investment mechanism.
The US Treasury said its designation of Tabaja underscored "the direct ties between Hizballah's commercial and terrorist activities, as well as the group's continued exploitation of the legitimate sector for financial, organizational, and material support" for terrorism."
In 2015, then acting Treasury Under Secretary Adam Szubin stated that Tabaja is "precisely the type of target that we try to go after: somebody who is key in terms of supporting a terrorist group's activities but somebody who is trying to retain one foot in the licit, legitimate world and therefore has a tremendous amount to lose."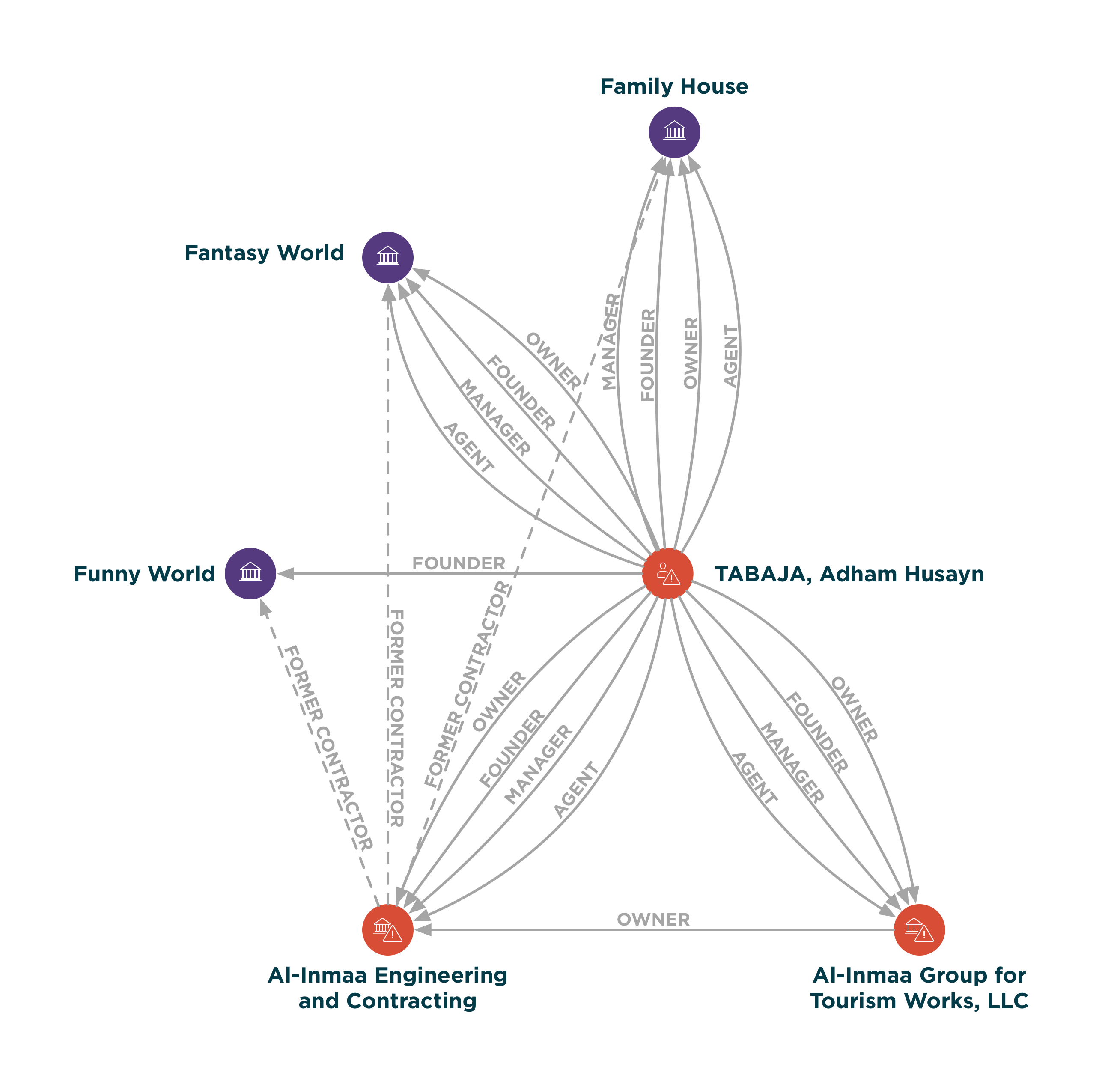 Tabaja owns Al-Inmaa Group for Tourism Works and al-Inmaa for Entertainment and Leisure Projects' entertainment centers in Lebanon, including Fantasy World, Family House and Golden Hall. These centers were built by Al-Inmaa Engineering and Contracting, which the US Treasury says has a construction monopoly in Hizballah-controlled areas of Lebanon.
Hizballah Financiers Restructure Businesses Following Sanctions
Once firms in Hizballah's networks are sanctioned, businessmen supporting the terror group often establish new business entities and obscure their supply chains to continue operations.
For example, Hizballah financier Kassim Tajideen restructured his businesses to evade sanctions and continue conducting transactions with US companies after he and his network were sanctioned in 2009 and 2010.
The US Justice Department said in a 2017 statement that Tajideen "created new trade names" and "misrepresented his ownership" to conceal his commercial interests. The statement added that the "scheme allowed Tajideen's companies to continue to illegally transact business directly with unwitting US vendors" and continue to use the US financial and freight transportation systems.
Companies owned or controlled by Kassim Tajideen or his relatives continued to engage in shipping activities and a construction project in the Democratic Republic of Congo (DRC) until his arrest and extradition to the United States in March 2017.
Mexico-based companies shipped goods to the DRC-domiciled Union Invest and Glory Group, successors of Congo Futur, a Hizballah front formerly owned by Tajideen.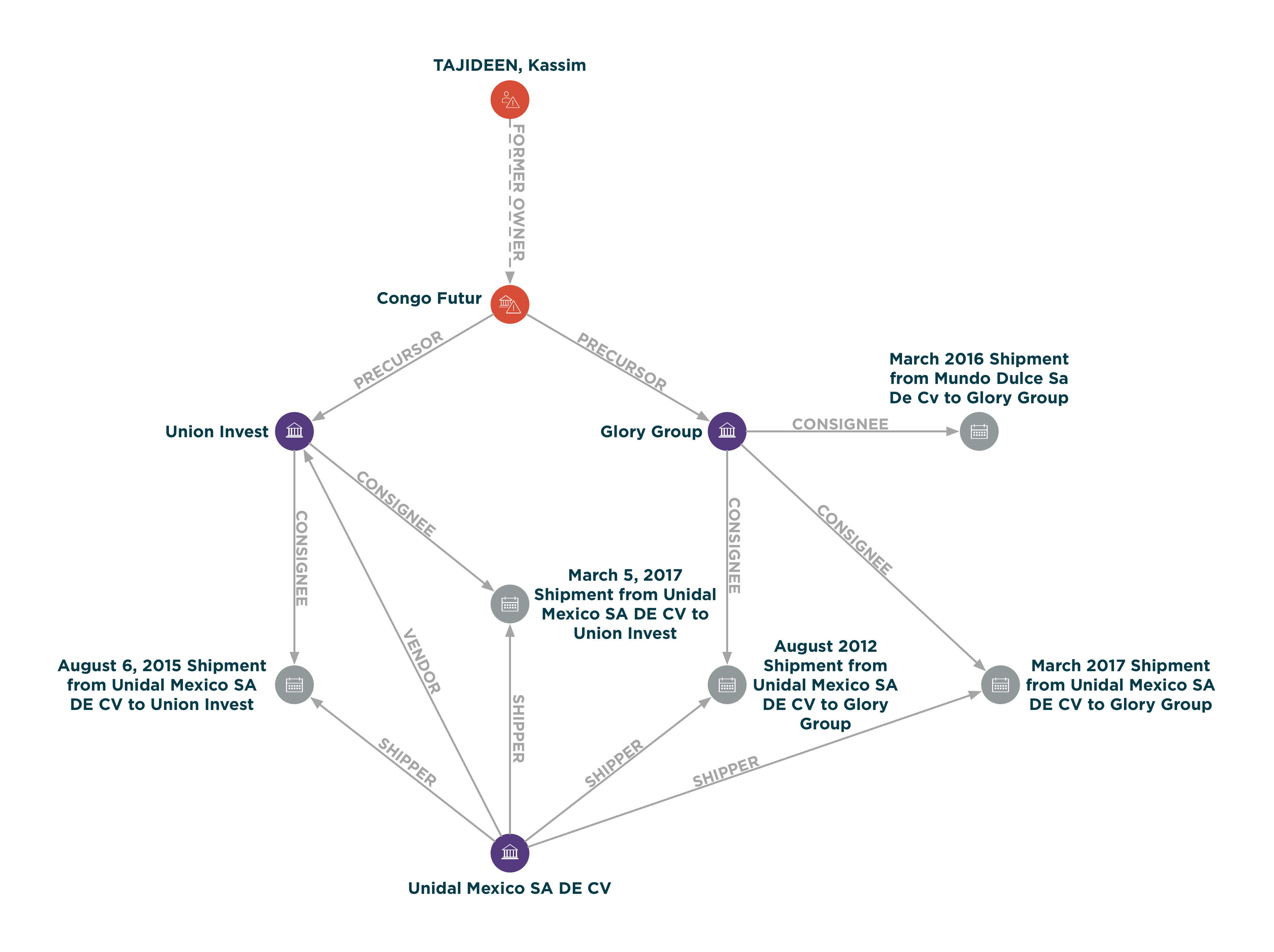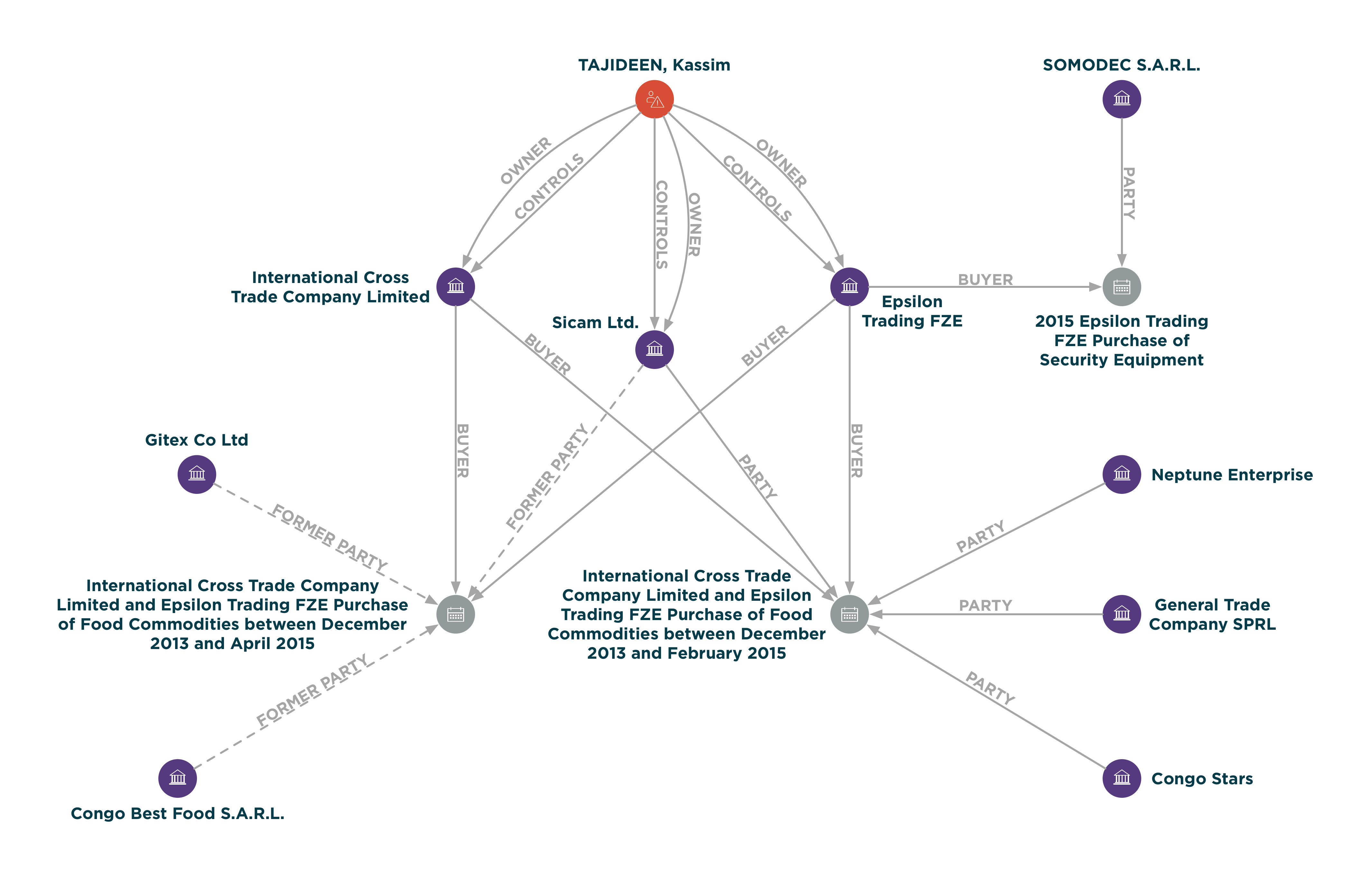 Between 2013 and 2015, Tajideen's UAE-based Epsilon Trading FZE and International Cross Trade Company Limited bought food commodities and security equipment through a supply chain of companies registered in the DRC, the Gambia, and Angola.
The Way Ahead for Hizballah Sanctions
As the US administration implements the new legislation, it is likely to increasingly focus on Hizballah's global network of businesses and facilitators, such as business associates of Bazzi, Tabaja, and Tajideen as well as their front companies in Lebanon around the world.
Other governments may also follow suit. In May 2018, the US Treasury Department and seven member nations of the Terrorist Financing and Targeting Center sanctioned senior Hizballah leaders and key facilitation networks, including Adham Tabaja and his al-Inmaa companies. The UK government is also continuing its debate on designating the entirety of Hizballah on its Proscribed Terrorist Organizations list to increase pressure on Iran and counter Hizballah's involvement in the Syrian and Yemeni conflicts.