The U.S. Treasury Department on Wednesday announced sanctions on a China-based drug trafficking organization accused of operating a conspiracy that shipped fentanyl analogues, cathinones and cannabinoids to at least 37 U.S. states and 25 countries.
Directed by Fujing Zheng (Zheng), the Zheng Drug Trafficking Organization (Zheng DTO) manufactures and distributes hundreds of controlled substances, including fentanyl analogues such as carfentanil, acetyl fentanyl and furanyl fentanyl, according to the Treasury.
"The Chinese kingpins that [the Treasury] designated today run an international drug trafficking operation that manufactures and sells lethal narcotics, directly contributing to the crisis of opioid addiction, overdoses and death in the U.S.," said Treasury Under Secretary Sigal Mandelker.
Fentanyl is a synthetic opioid up to 100 times more potent than morphine. Overdose deaths due to fentanyl or fentanyl analogues are sharply increasing, according to data compiled by the National Institute on Drug Abuse, a U.S.-government funded research center. Congress is considering a number of proposals to tackle the issue.
China, which U.S. officials believe is the principal source of fentanyl in the country, announced in April that it would ban all variants of the opioid. President Donald Trump, however, said earlier this month that he did not believe that China had stopped the outflow of fentanyl or analogues.
Zheng created and maintained numerous websites to advertise and sell illegal drugs in more than 35 languages, the Treasury said. The Zheng DTO touted its ability to create custom-ordered drugs and avoid detection from customs and law enforcement officials when shipping the drugs through express mail and the U.S. Postal Service, according to the Treasury. 
The Zheng DTO also used its chemical expertise to create analogues of drugs with slightly different chemical structures but the same, or even more, potent effect, the Treasury said. It agreed to manufacture adulterated cancer medication, creating counterfeit pills that replaced the active cancer-fighting ingredient with synthetic drugs, according to the Treasury. 
Zheng and his father Guanghua Zheng, who was also sanctioned Wednesday, were charged in August 2018 in a 43-count indictment, the Treasury said. They allegedly shipped more than 16 tons of chemicals a month to countries around the world, Kharon reported in April. The U.S. on Wednesday also sanctioned Qinsheng Pharmaceutical Co. Ltd., a Shanghai-based company Kharon found at the time was owned by the Zhengs.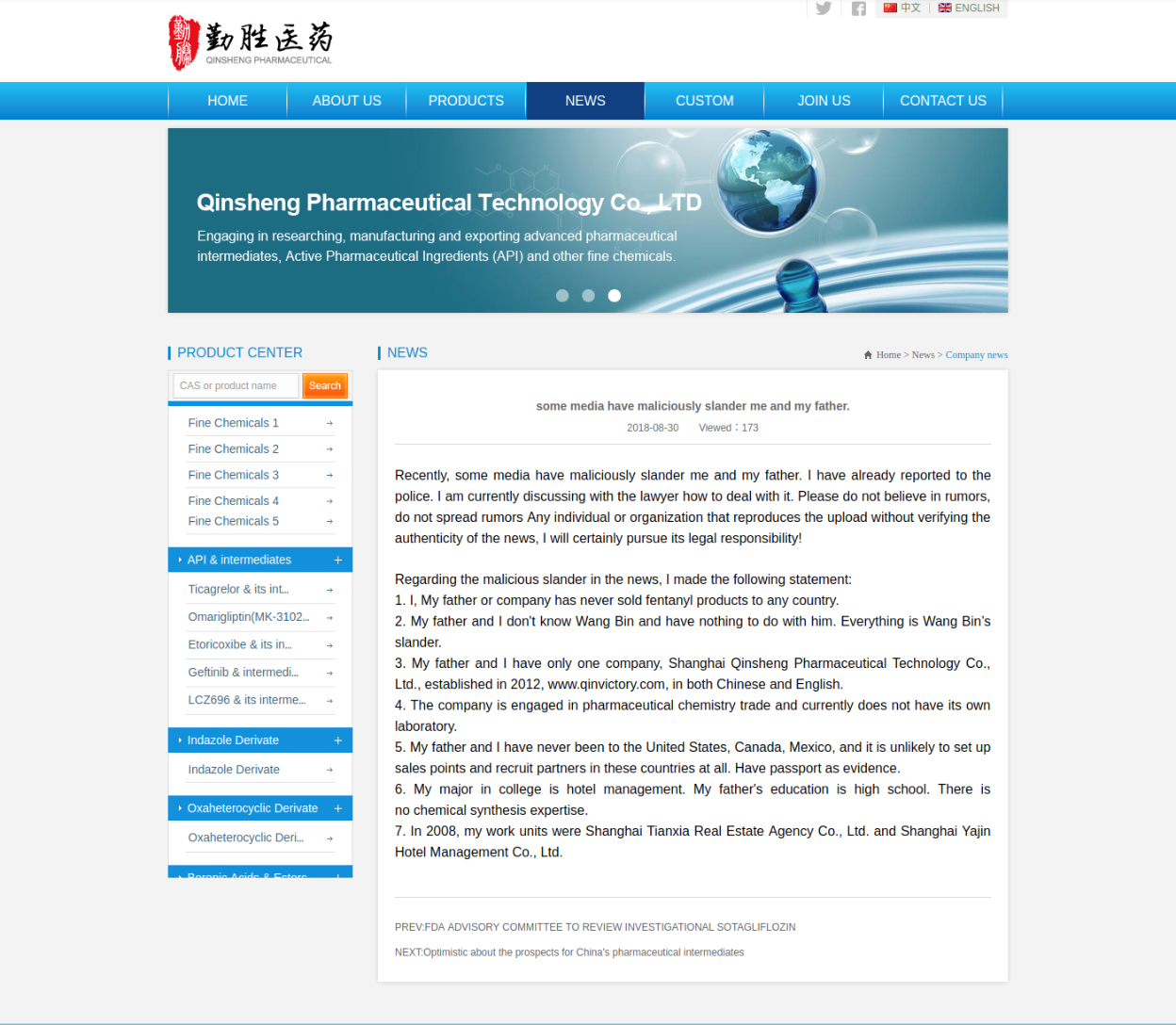 The company released a statement on its website shortly after the indictment denying involvement in drug trafficking; the statement has since been removed from the website, Kharon found. Qinsheng Pharmaceutical didn't appear to respond on its website to the U.S. sanctions designation.
The Zhengs had set up companies and maintained financial holdings in numerous countries around the world, including the U.S., to facilitate their narcotics activities, according to the indictment. In the U.S., for example, the Zhengs controlled the now-dissolved Massachusetts-based Daniel Lab LLC. Bin Wang, a U.S.-based facilitator of the Zhengs who ran Daniel Lab, helped smuggle narcotics through Chinese and U.S. customs, prosecutors said. 
Jason Yen, an employee of one of Wang's companies, listed his name and an address in Changzhou, China, as the origin point for some of the fentanyl shipments, according to prosecutors. The address is registered to Changzhou Aibo Biotechnology Co., Ltd., Chinese corporate records show, a company not sanctioned in Wednesday's action. Aibo Biotechnology touts on its website the ability to produce customized chemical compounds for customers.
Wang was sentenced in December 2018 to 71 months in prison after pleading guilty to charges of conspiracy to distribute controlled substances. U.S. prison records confirm that Wang is still behind bars.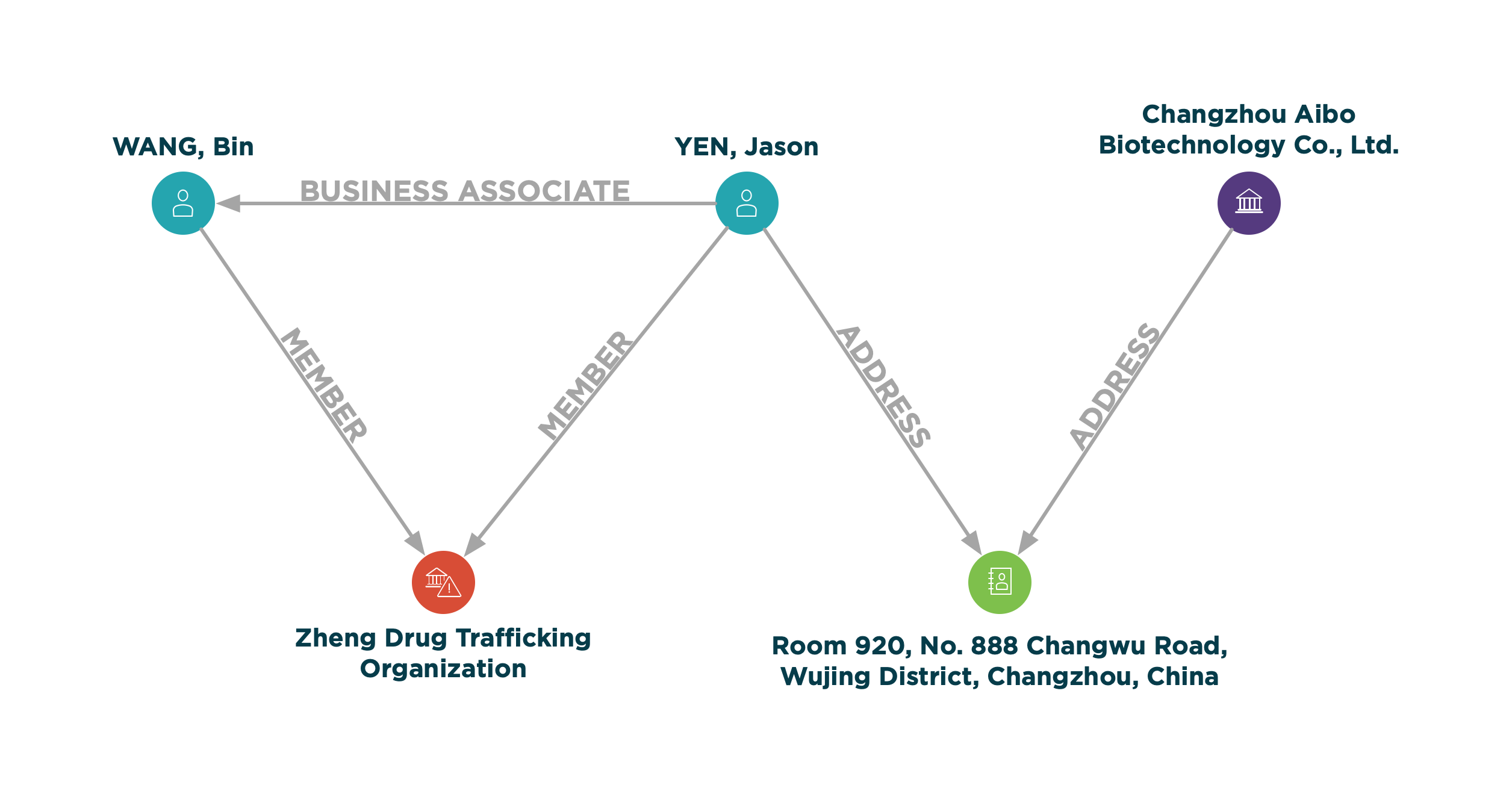 Brazilian business-to-business website Sale Rural had a posting seen by Kharon on Wednesday to sell crystal methylone, a designer drug structurally and pharmacologically similar to amphetamine or methylenedioxymethamphetamine (MDMA), which listed an email address for Zheng provided by the Treasury. The post listed U.S. money service businesses for payment options. 
The U.S. separately sanctioned Xiaobing Yan, saying he manufactured and distributed synthetic opioids, cathinones and cannabinoids, selling directly to U.S. customers in multiple cities across the U.S. 
He was charged in 2017 in Mississippi in what prosecutors said at the time was part of the first indictment against Chinese manufacturers of fentanyl and other substances. Yan has tried to evade prosecution by modifying the chemical structure of his analogues based on his monitoring of legislation and law enforcement activity in the U.S. and China, according to the Treasury.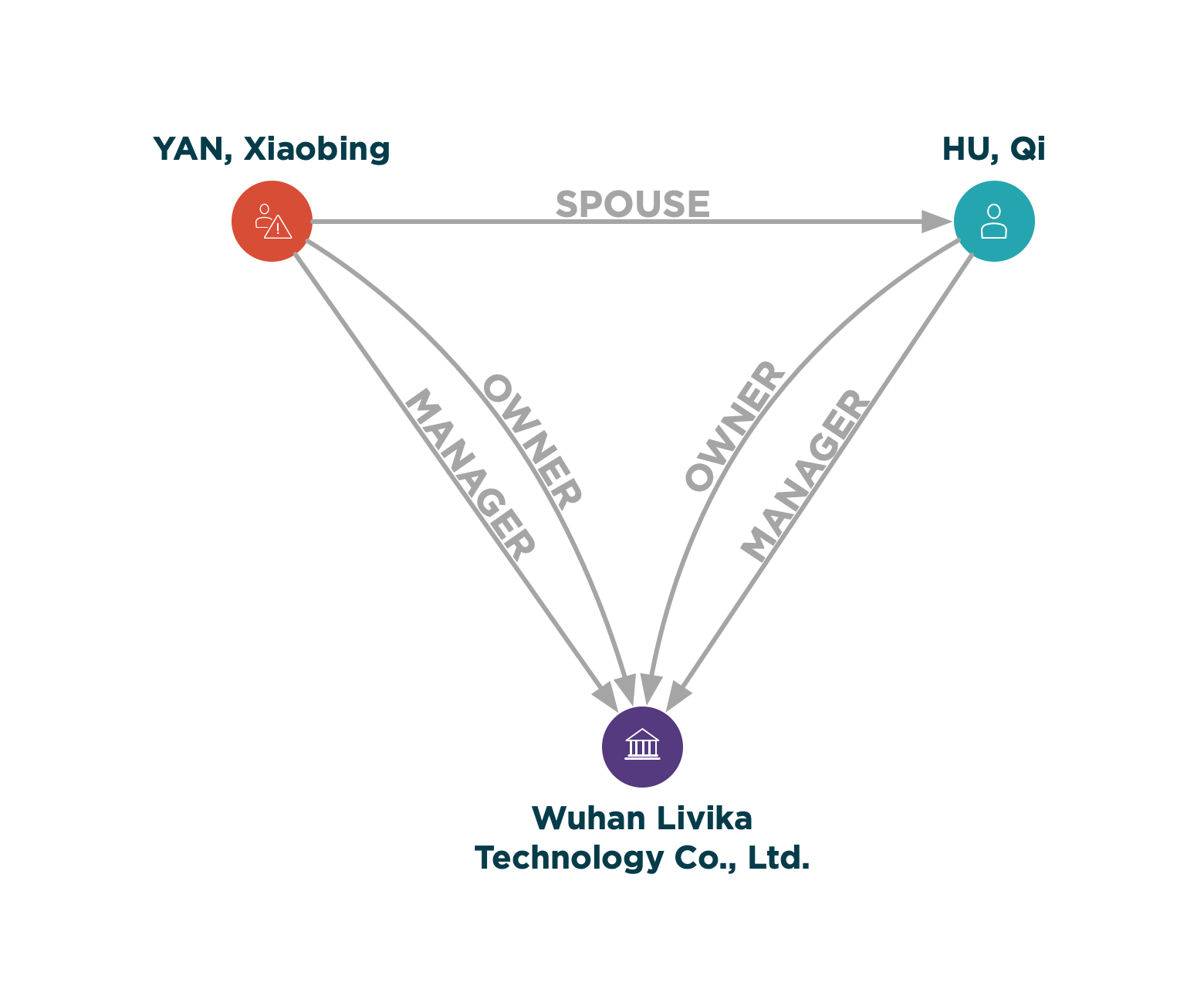 Yan is the majority shareholder of Wuhan Livika Technology Co., Ltd., with the rest of the shares owned by his wife, Hu Qi, Chinese corporate records show. The business scope of Livika Technology included dealing with chemicals, in addition to various import and export activities, according to the records.
Hu wholly owned a now-dissolved pharmaceutical company called 5A Pharmatech Co., Limited, according to Hong Kong corporate records from 2017.
Both of the Zhengs and Yan are known to use digital currency, and the Treasury identified numerous Bitcoin addresses associated with them. 
Bitcoin (XBT) addresses identified by the Treasury as belonging to Yan received more than XBT 1738 in transactions from 2013 to 2017, totaling more than $17 million, according to Wednesday's conversion rate. Addresses for Zheng have received XBT 9 since 2018, valued at roughly $93,000. Guanghua Zheng's Bitcoin addresses have received more than XBT 7.6, equating to over $76,000; his Litecoin (LTC) address has received LTC 1, or about $70, according to Wednesday's rate. 
In addition, the White House announced a series of advisories for the private sector to help U.S. and foreign companies better protect themselves, and their supply chains, from inadvertently aiding fentanyl trafficking. The documents explain how traffickers move and market their drugs, and they aim to foster deeper public-private collaboration to curb the production and sale of fentanyl, its analogues and other synthetic opioids, the White House said.
One of the advisories was issued by Treasury's Financial Crimes Enforcement Network (FinCEN); it highlights the typologies and red flags seen from suspicious transaction reports filed over potential links to fentanyl dealings. The advisory, according to the Treasury statement, focuses on the foreign sellers of the drugs, the methods by which the proceeds are laundered and the financial methodologies associated with online sales to U.S.-based buyers. 
"We are making the financial sector aware of tactics and typologies behind illicit schemes to launder the proceeds of these fatal drug sales, including transactions using digital currency and foreign bank accounts," said FinCEN Director Kenneth Blanco. "Financial institutions must be on alert to red flags and other indicators of the complex schemes fentanyl traffickers are employing so that financial institutions can report and share relevant information with law enforcement, and ultimately help save lives."