The U.S. Treasury Department on Thursday imposed sanctions on a network of front companies and agents involved in procuring aluminum products for designated companies associated with Iran's nuclear program.
The sanctions on Thursday mark the latest escalation in U.S. pressure on Iran since its exit in May 2018 from the nuclear deal. They come amid an offer earlier Thursday from Iranian Foreign Minister Mohammad Javad Zarif to accept enhanced inspections of Tehran's nuclear program, in exchange for the permanent lifting of U.S. sanctions. It also follows a flurry of maritime activity on Thursday: Iran said on state TV that it seized a tanker, and President Donald Trump announced that the U.S. Navy shot down an Iranian drone over the Strait of Hormuz.
Earlier this year, Tehran responded to the U.S. exit by announcing its reduction of compliance with the deal, including through the resumption of uranium enrichment beyond the levels allowed under the agreement. Earlier this month, Iran announced it broke through another level of enrichment, but Zarif said this week that the steps taken thus far can be reversed within hours. The U.S. rejects Iran's nuclear enrichment and has threatened Tehran over its efforts.
"Iran cannot claim benign intent on the world stage while it purchases and stockpiles products for centrifuges," said Treasury Secretary Steven T. Mnuchin.  
The State Department, in a statement about Thursday's designations, condemned Iran's recent nuclear efforts. "There is no credible reason for Iran to expand its nuclear program at this time and in this way other than as a transparent attempt to extort the international community," the department said.
Though the Treasury doesn't specify when the deals cited in Thursday's action took place, the procurement network appears to have shipped material to Iran at least as recently as December 2018, Kharon found. 
Some of the products sought by the network were items subject to a multinational export control regime known as the Nuclear Suppliers Group (NSG), according to the Treasury. Under the United Nations Security Council resolution that endorsed the nuclear deal, the sale, supply or transfer to Iran of NSG-controlled items require advance, case-by-case approval from the U.N. -- with narrow exceptions that didn't apply to Thursday's action, the Treasury said.
The individuals and entities sanctioned are spread between Iran, China and Belgium, and they've acted on behalf of Iran's Centrifuge Technology Company (TESA), the Treasury said. The U.S. on Thursday designated Mohammad Fakhrzadeh, a TESA commercial director, for coordinating the purchase of various Chinese-origin goods associated with Iranian centrifuge components.
TESA was sanctioned in 2011; it plays a crucial role in Iran's uranium enrichment program through the production of centrifuges used in facilities belonging to the Atomic Energy Organization of Iran (AEOI), the Treasury said Thursday.
AEOI, the main Iranian institute for nuclear technology research and development, was designated in 2005 when it was listed in the annex of Executive Order 13382, which authorizes sanctions on proliferators of weapons of mass destruction and their supporters. U.S. sanctions on AEOI were removed as part of the nuclear deal, but they were reimposed after the U.S. exit from the agreement. TESA was involved in the production of centrifuges used in the AEOI enrichment plant in Natanz and in facilities at Kalaye Electric Company, a U.S. and U.N.-sanctioned entity linked to AEOI, the Treasury said in 2011.
BAKHTAR RAAD SEPAHAN
Iranian firm Bakhtar Raad Sepahan, in coordination with its Belgium-based office, facilitated deals for the purchase of hundreds of thousands of dollars worth of Chinese-origin aluminum products and their shipment from China to Iran on behalf of TESA, according to the Treasury. The Belgium-based office, called TAWU Mechanical Engineering and Trading Company (TAWU BVBA), brokered deals for the aluminum goods required for use in Iranian centrifuges, the Treasury said. 
Afsaneh Karimi-Adegani, an employee of Bakhtar Raad Sepahan with a background specializing in aspects of nuclear engineering, worked with Sohayl Talebi, managing director of TAWU BVBA, to procure the aluminum goods on behalf of TESA, according to the Treasury. Corporate records from September 2018 identified Karimi-Adegani as the company's managing director.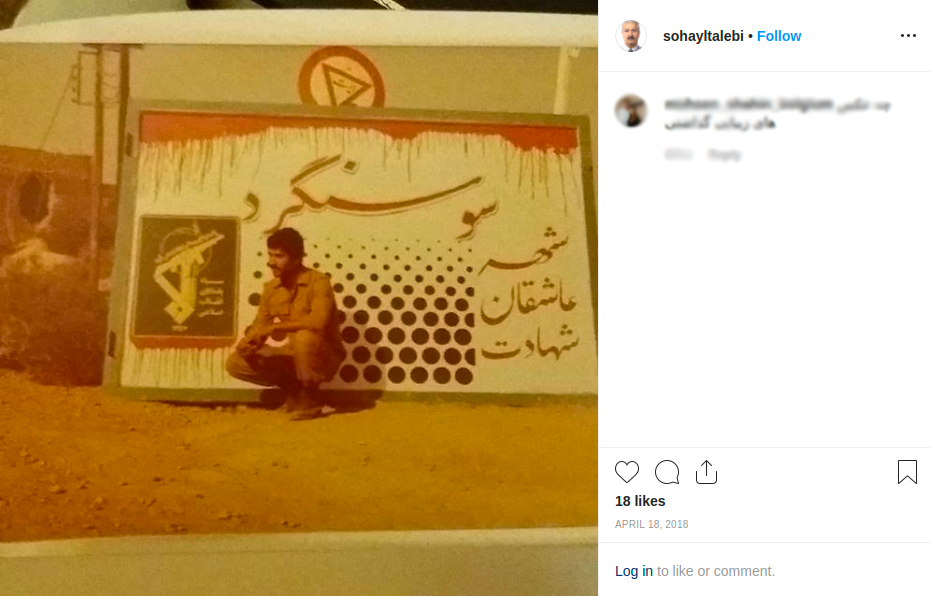 China-based Henan Jiayuan Aluminum Industry Co. Ltd. contracted to sell aluminum goods worth more than $500,000, including NSG-controlled items, to TAWU BVBA for use by TESA, and coordinated the shipment of the goods from China to Iran with TAWU BVBA and Bakhtar Raad Sepahan, the Treasury said. Henan Jiayuan has shipped material to the U.S. as recently as this month, according to trading data, and on its website, identifies large Asian multinational technology companies as partners.
Talebi established China-based Sanming Sino-Euro Import and Export Co. Ltd. and used the company to arrange shipments of aluminum goods to Iran, the Treasury said. He's the company's sole owner and he launched the firm in March 2019, according to corporate records. 
Talebi was also very active on social media over the years, Kharon found. He posted an older, so-called "throwback" photo in April 2018, for example, in which he stands next to a sign for Iran's Islamic Revolutionary Guard Corps (IRGC), which was designated earlier this year by the U.S. as a Foreign Terrorist Organization (FTO).
Talebi also posted photos of his business activity. In the caption to a series of photos posted Dec. 21, 2018, Talebi discussed sending 150 tons of aluminum alloys and other material to Iran from China. "I'll be back to Belgium tomorrow," he wrote. Language etched into the aluminum shown in one of the photos posted by Talebi indicates that it was made by a Chinese company that was not sanctioned in Thursday's action.
TAMIN KALAYE SABZ ARAS COMPANY (SABZ CO.)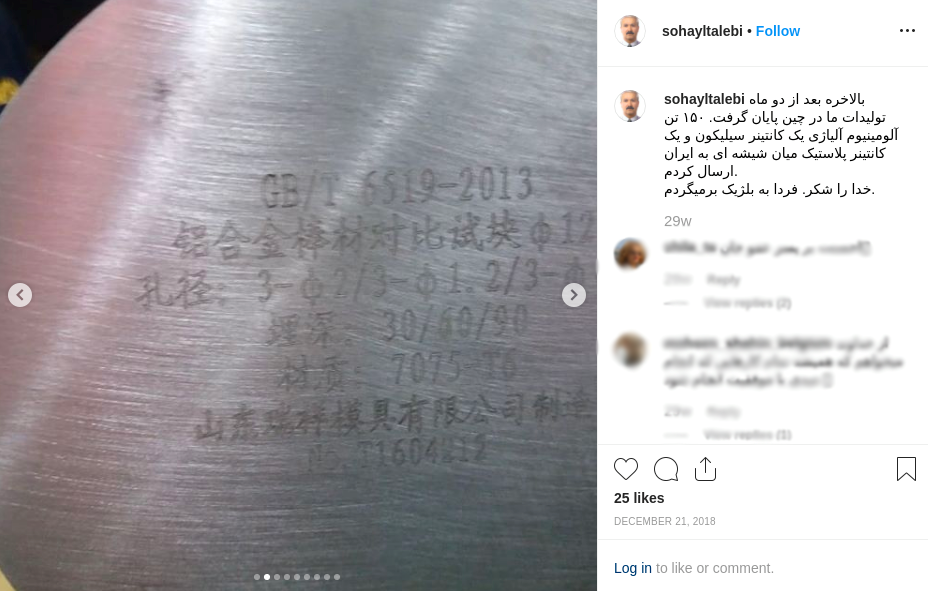 Sabz Co., which is based in Iran, held a contract with TESA for alloy parts worth tens of thousands of dollars, and it entered agreements with Chinese firms to buy metal materials for end use by TESA, the Treasury said. 
Salim Borji, Sabz Co.'s managing director, led Iranian delegations to China to meet with metal suppliers, according to the Treasury. He's also signed contracts with, and made payments to, Chinese suppliers on the company's behalf, the Treasury said. 
Borji is on the Sabz Co. board of directors; Seyyed Mehdi Mujtahed Najafi is the company's auditor, according to corporate records. Separately, Borji has served as an auditor for an entity called Iranian Industries and Airline Services Development, according to an April 2015 record.
China-based Suzhou Zhongsheng Magnetic Company Limited and Suzhou A-One Special Alloy CO., Ltd contracted to sell metallic products to Sabz Co. for shipment from China to Iran, the Treasury said, adding that both companies worked with Najafi on the deals. Suzhou Zhongsheng has shipped material to the U.S. as recently as May, according to trade records.
Analysts from the Iran team contributed to this report.