U.S. Revokes Licenses for Dealings With Sanctioned Belarusian State-Owned Enterprises
A 45-day wind down period ends June 3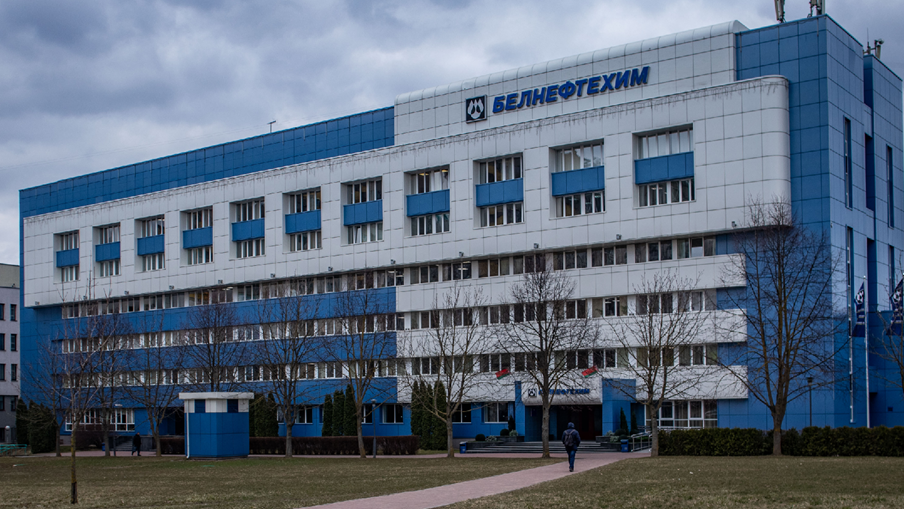 The main office of Belneftekhim in Minsk, Belarus.
By Samuel Rubenfeld
Monday, April 19, 2021
The U.S. Treasury Department on Monday revoked a general license that had authorized business dealings with nine sanctioned Belarusian state-owned enterprises.
The U.S. had issued and annually renewed a license since 2015 that allowed transactions with the nine Belarusian companies. U.S. officials had recommended late last month that the license not be extended. Under the license issued Monday, the only authorized transactions are those necessary for the next 45 days to wind down dealings with the Belarusian entities. 
The revocation is the result of ongoing suppression following an August 2020 Belarusian presidential election marred by fraud, the U.S. State Department said in a statement. The human rights situation in Belarus is sharply deteriorating; authorities have detained more than 340 political prisoners, the State Department said. 
Since he declared victory, President Alyaksandr Lukashenka has faced protests calling for his ouster; following a let up during a frigid winter, the movement resumed in earnest late last month, with hundreds arrested after a "Freedom Day" march.
"The nine state-owned enterprises affected by this action finance and support the Lukashenka regime, facilitating its violent repression of the Belarusian people and repeated rejection of the rule of law," said Secretary of State Antony Blinken. 
The U.S. sanctioned Lukashenka and his son in 2006; they and other Belarusian top officials have also been sanctioned by the European Union, the U.K. and Canada in recent months.
Belarusian State Concern for Oil and Chemistry (Belneftekhim), which has been sanctioned by the U.S. since 2007, as well as several of its subsidiaries, were among the nine firms that are no longer covered by the general license. Belneftekhim signed a memorandum of understanding (MOU) with Azerbaijan's state oil company, SOCAR, calling for the expansion of opportunities for oil and petroleum product sales, Belarusian state media reported last week.
Management of Grodno Azot, a subsidiary of Belneftekhim, had announced last month that they were planning to "develop appropriate measures" should the EU impose new sanctions, according to a report by Belsat, a Polish media outlet aimed at Belarusian audiences. 
Belarusian authorities used a facial recognition system called Kipod to track down dissidents, Kharon reported earlier this year. The system was developed by Synesis, a Belarusian technology firm sanctioned by the EU; the company is appealing its listing. Synesis has rebranded its technology to enter the U.S. market and developed apps used for everything from celebrity look-alikes to fitness and gaming, Kharon has reported.
Over the weekend, the Russian Federal Security Service (FSB) said it detained two Belarusian citizens for allegedly plotting a coup in Belarus as well as Lukashenka's assassination, TASS reported. Russian President Vladmir Putin mentioned the plot during his conversation last week with President Joe Biden, Kremlin spokesman Dmitry Peskov said, according to a TASS report.
---