By Kharon Staff
September 13, 2023
---
The U.S. government has imposed sanctions against a network of Hizballah financial facilitators and companies in South America that generate significant revenue for the terrorist group, and enable its activities in the western hemisphere. The network centers around senior operative Amer Mohamed Akil Rada, who was involved in the 1994 attack on a Jewish community center in Buenos Aires.
On September 12, the U.S. Department of the Treasury's Office of Foreign Assets Control (OFAC), in coordination with the Drug Enforcement Administration, designated Colombian-Lebanese dual national Akil Rada and companies that he and several associates use to generate revenue for Hizballah.
These entities operate in Colombia, Belize, Argentina, El Salvador, Panama, and Venezuela and are involved in the export of coal, charcoal, and textiles from South America to Lebanon. According to the U.S. government, up to 80 percent of the proceeds from these companies are used to support Hizballah.
Close family members of Akil Rada, who actively conduct business on his behalf, were also sanctioned. One of his designated brothers, Samer Akil Rada, was previously implicated in a cocaine shipment worth $15 million that was hidden in fruit shipments seized in El Salvador, the U.S. noted.
A Global Support Network
The sanctioning of Akil Rada and his associates highlights Hizballah's continued reliance on a vast worldwide network of loyal members and business partners, who operate seemingly legitimate enterprises that generate and move funds, and allows its members freedom of movement to operate and surveil targets for the terrorist organization.
To effectively counter terrorism financing and manage sanctions-related risk, a network-based approach to research and data analysis is essential – to include examining publicly available sources – to identify connections between individuals, entities, and illicit activities. This approach informs an understanding of the complex web of relationships within illicit networks, allows for a data-driven approach to decision-making, and the implementation of appropriate measures to mitigate sanctions-related risks.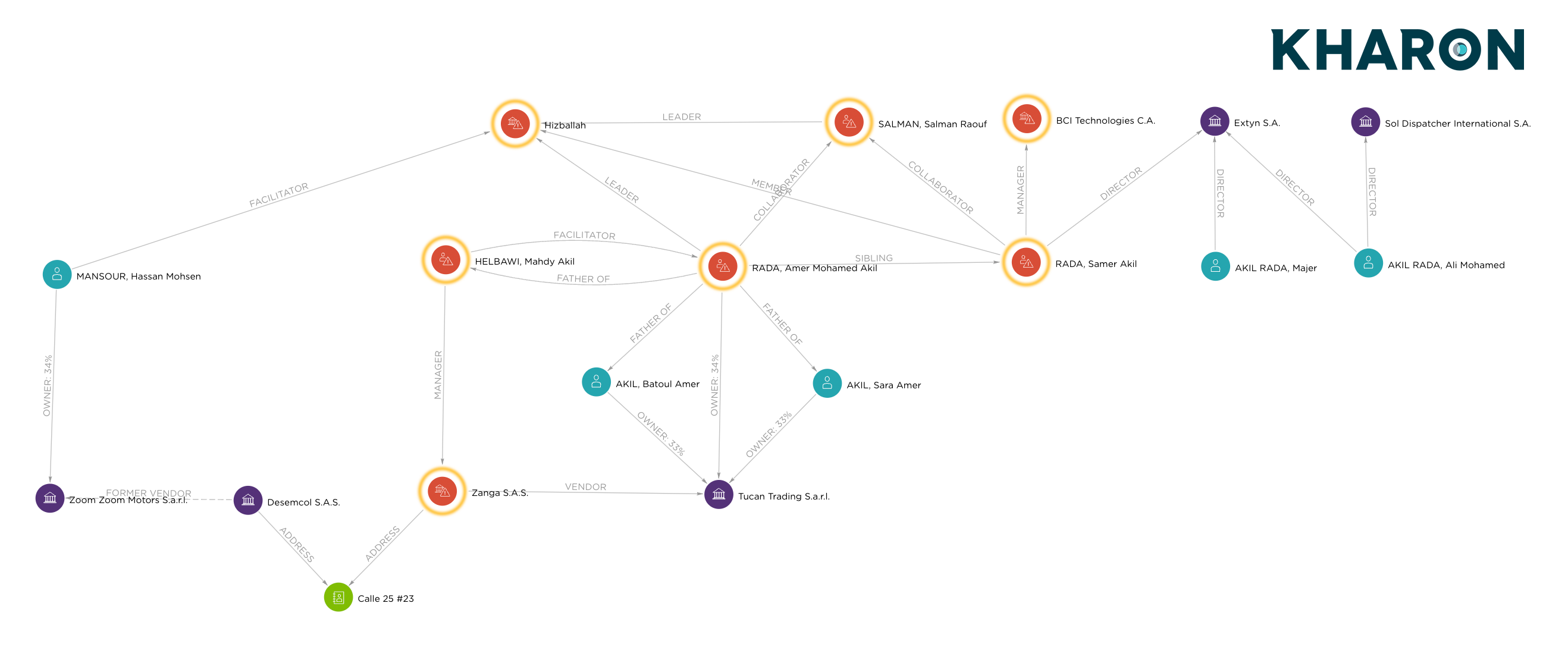 Kharon ClearView and LensView users can explore Kharon's data coverage of the Rada Hizballah facilitation network, which was investigated by Kharon prior to his September 2023 designation by the U.S. government. Click here to view.