U.S. Sanctions Mexico-Based Network Trading Venezuelan Oil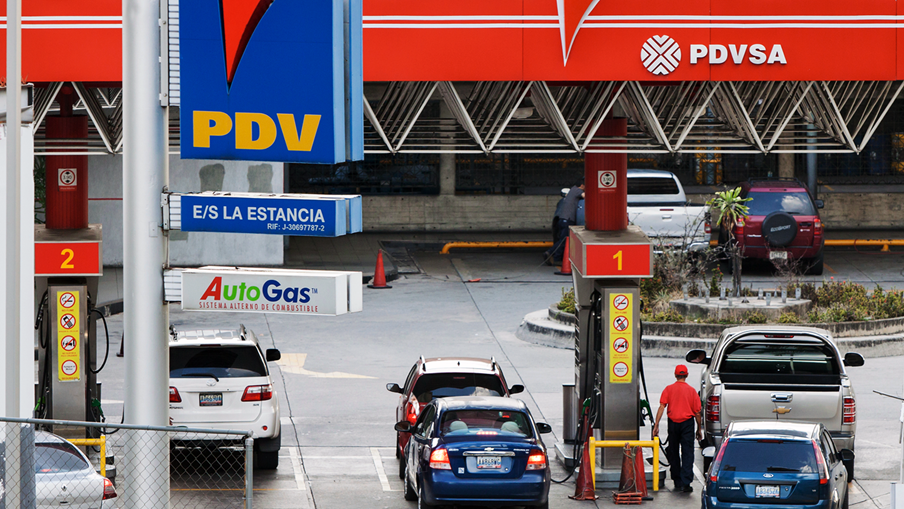 Source: Shutterstock
By Samuel Rubenfeld, Victor Salazar-Madrigal and Kortney Casanova
Friday, June 19, 2020
The U.S. Treasury Department on Thursday imposed sanctions on a network trading oil with Venezuela in violation of U.S. sanctions.
Petroleos de Venezuela, S.A. (PdVSA), the Venezuelan state-owned oil company, was sanctioned in January 2019, and the U.S. has spent the time since trying to block the country's crude trade, designating companies, individuals and vessels carrying out the effort. Exports are on course for a 70-year low in the face of U.S. pressure, Reuters reported earlier this week.
On Thursday, the Treasury said Venezuelan leader Nicolas Maduro and PdVSA had turned to oil minister Tareck El Aissami, who enlisted a network of facilitators to orchestrate opaque schemes to broker the resale of more than 30 million barrels of Venezuelan-origin crude oil. 
Maduro and El Aissami, both of whom were sanctioned by the U.S. in 2017, were each charged in March in separate superseding indictments filed in New York federal court. The U.S. and more than 50 other countries do not recognize Maduro as Venezuela's president, but in court records, prosecutors refer to him as the country's "de facto ruler."
PdVSA is Venezuela's primary conduit for corruption, the Treasury said, an apparent reference to advisories the department has issued on Venezuelan graft. Since at least last year, Maduro and PdVSA have cooperated with Colombian businessman Alex Saab and Mexican national Joaquin Leal Jimenez to evade U.S. sanctions, according to the Treasury. 
Leal "is the critical conduit" for the evasion network sanctioned Thursday, the Treasury said. He has been coordinating the purchase and sale of the Venezuelan oil from PdVSA and its subsidiary PdVSA Petroleo, S.A., bringing knowledge of the oil sector and facilitating the transport and resale to buyers, according to the Treasury. 
Leal holds ownership stakes in two Mexico-based companies, according to corporate records reviewed by Kharon, and is a director and the sole owner of Singapore-based Cosmo Resources Pte. Ltd., a wholesaler of crude oil, mineral fuels and lubricants, the Treasury said. Alel Technologies LLC and Luzy Technologies LLC, both Delaware-registered companies with an "alleged business location at a residential address in Boston, Massachusetts," were sanctioned for being owned or controlled by Leal, according to the Treasury.
Saab, who was arrested by authorities last week in Cape Verde, Africa, was sanctioned and criminally charged in the U.S. in July 2019. Members of Saab's family and companies associated with him were also sanctioned, and months later the Treasury expanded its designations. Following the arrest, Saab's lawyer said an extradition to the U.S. could take months; Venezuela demanded his release, saying Saab was traveling as a government "agent," and therefore entitled to diplomatic immunity. 
One of Saab and Leal's schemes was to sell Venezuelan oil under the guise of an "oil-for-food" program that never resulted in food deliveries to Venezuela, according to the Treasury. 
Saab, who is highly influential in the Venezuelan economy and close to Maduro, has played a critical role in a food aid program marred by graft. As much as 70 percent of the funds directed to the Venezuelan program, called Los Comités Locales de Abastecimiento y Producción but known as CLAP, has been lost to corruption, the Treasury has said. 
Food shipments into a massive CLAP supplier network continue, Kharon found, despite years of investigations by U.S., Mexican and Colombian authorities, as well as the Venezuelan opposition. The network has adapted to the scrutiny, relying on dozens of intermediaries registered in Asia, Latin America and the Middle East that appear to purchase food and facilitate shipments to Venezuela.  
Saab and Leal, working with Mexico-based firms Libre Abordo, S.A. de C.V. and Schlager Business Group S. de R.L. de C.V., brokered the resale of more than USD 300 million worth of oil on behalf of PdVSA, according to the Treasury. The oil that moved through the network amounted to about 40 percent of PdVSA's exports for the month of April 2020, the Treasury said. 
Though the Mexican companies claimed to have contracts with the Venezuelan government to deliver corn and water tanker trucks to Venezuela, they didn't deliver the corn and sent only half of the water trucks at grossly inflated prices, the Treasury said. One of the shipments was carried by the Hong Kong-flagged bulk carrier Chipolbrok Sun, Reuters reported in May.
"This enterprise skimmed millions from funds that were claimed to have been for humanitarian aid, yet failed to deliver the promised food to the Venezuelan people," said Secretary of State Mike Pompeo. 
Libre Abordo said it will ask lawyers to evaluate the sanctions designation, adding that the U.S. was wrongly linking the company to unrelated entities, Reuters reported.
The Mexico City-based company was for much of its existence involved in the purchase and resale of cleaning supplies, hospital equipment and other products, primarily in Mexico -- until 2019, when it began entering into contracts with the Venezuelan government, according to the Treasury. Schlager Business Group also had no prior experience in the oil sector and was primarily involved in back-office business support services in Mexico, the Treasury said.
Libre Abordo's involvement in the oil sector apparently began when it signed two contracts in July 2019 with Corporacion Venezolana de Comercio Exterior S.A. (CORPOVEX), the Venezuelan state-owned company for foreign trade, to supply corn and tanker trucks, the Treasury said. In lieu of prepayment, Libre Abordo agreed to lift and broker oil supplied by PdVSA in a scheme orchestrated by Saab and El Aissami, according to the Treasury. 
The relationship between Libre Abordo and PdVSA progressed in recent months, in large part because of U.S. sanctions imposed on Swiss subsidiaries of Russian oil giant Rosneft, according to the Treasury. Libre Abordo largely replicated the operations of Rosneft subsidiary Rosneft Trading S.A., including by marketing Venezuelan oil to the same buyers, and using virtually the same routes and shipment processes, the Treasury said. Rosneft, for its part, sold its Venezuelan operations to an entity owned by the Russian government, Kharon reported in March.
"Libre Abordo played a critical role in helping PdVSA liquidate a significant amount of its inventory and drain its limited oil storage facilities," the Treasury said.
Libre Abordo's co-owners, Olga Maria Zepeda and her mother Veronica Esparza, also control Schlager Business Group, the Treasury said. Esparza is listed as the general manager of Schlager Business Group; ownership is split among five people, according to Mexican corporate records. Zepeda is the sole shareholder and director of Washington Trading Ltd, a U.K.-based company, the Treasury said. 
The head of Mexico's financial intelligence unit (FIU) said Friday that the Mexican government had frozen the bank accounts of "all those listed" by the Treasury, Reuters reported.
Libre Abordo announced on May 31 that it was bankrupt and that Maduro had ended the oil-for-food agreement. During the peak of its involvement in the Venezuelan oil trade, it discussed a deal with Swiss commodities trader Vitol for the purchase of 500,000 barrels, Bloomberg reported. It's unclear whether the deal was completed.
Schlager Business Group in March was scheduled to pick up 2.4 million barrels of Venezuelan crude bound for Singapore aboard the oil tankers Euroforce, Afra Laurel and Icaria, Reuters had reported, citing PdVSA documents. The Euroforce, which was sanctioned Thursday along with its owner, Romina Maritime Co Inc, is operated by Liberia-registered Eurotankers Inc., a company that also operates several other tankers that have recently traveled between Venezuela and other countries.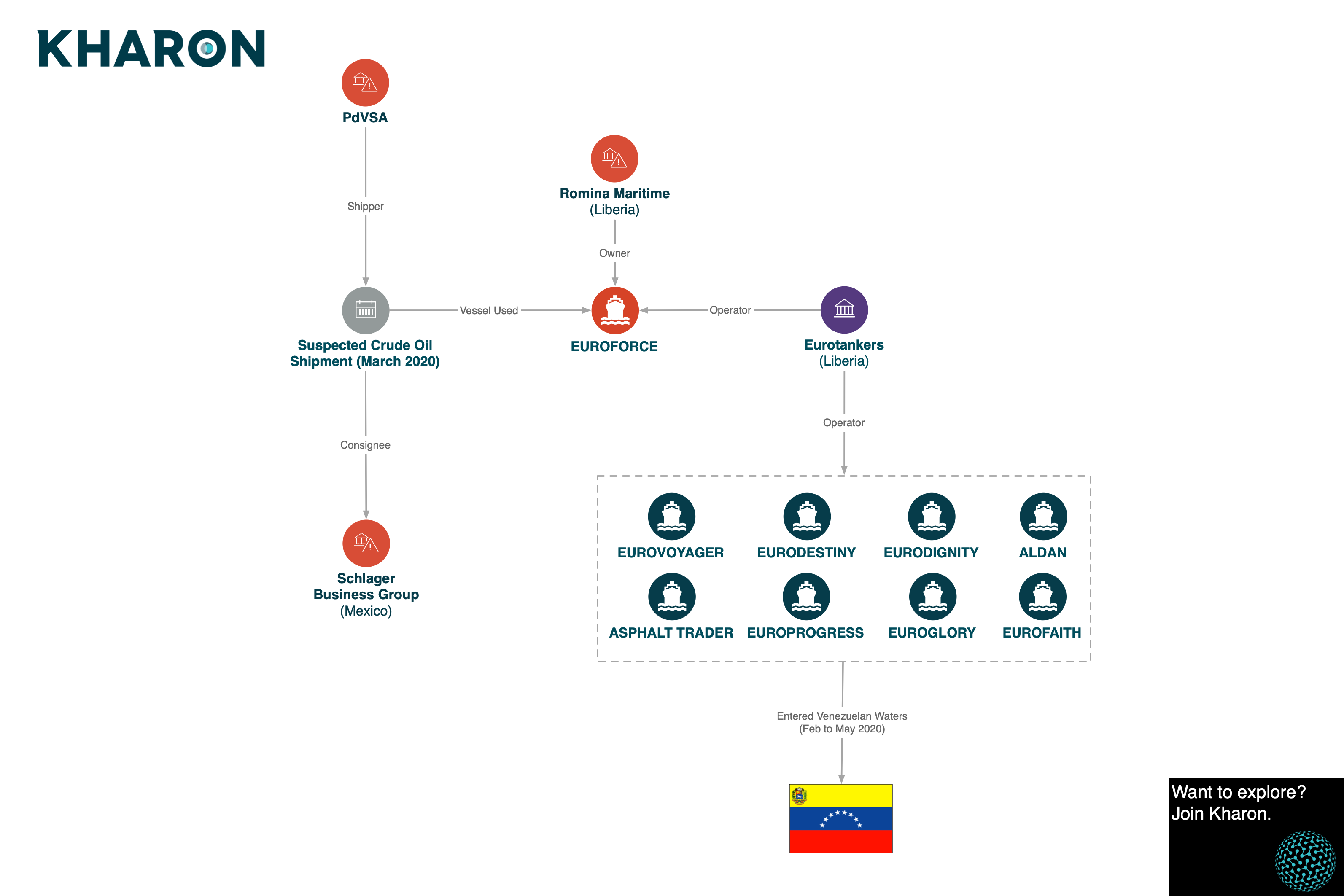 A third Mexican firm, Jomadi Logistics & Cargo, S.A. de C.V., was not sanctioned by the Treasury but has engaged in similar activities, Kharon found. 
Jomadi Logistics entered into a four-month contract in March with PdVSA Petroleo to buy Venezuelan crude, according to the agreement, which was published by a Spanish media outlet. The company also acquired 114,000 liters of chemicals for the distillation and blending of gasoline from a Texas-based oil products distributor, the Spanish media report said.
Separately, the Treasury sanctioned Delos Voyager Shipping Ltd and its tanker, the Delos Voyager, for transporting crude oil from Venezuela to Asia. The Treasury issued a license authorizing wind-down transactions until July 21 with Delos Voyager and Romina Maritime. The wind-down license allows for, among other things, the completion of ongoing voyages and the discharge of cargo, as well as docking or anchoring, and maintenance and servicing transactions, the Treasury said in guidance issued Thursday.
And the Treasury delisted two companies, Afranav Maritime Ltd and Seacomber Ltd, and their vessels; they were sanctioned on June 2. Following their designations, both companies committed to enhancing their sanctions compliance programs and pledged to end their involvement in the Venezuelan oil sector, the Treasury said Thursday.
---