U.S. authorities announced Thursday their first-ever seizure of a North Korean cargo ship for violating international sanctions, alleging in a civil asset- forfeiture complaint that Pyongyang sought to use the vessel to export high-grade coal and import heavy machinery.
The WISE HONEST, a 17,061-ton single-hull bulk carrier ship flying a North Korean flag, was one of the country's largest vessels of its kind. A "bulk carrier" is a type of vessel designed to carry unpackaged cargo, such as coal, ore or cement, in its hold.
U.S. officials said that the WISE HONEST was part of a broader sanctions-evasion scheme conducted by the North Korean government. The vessel, according to the complaint and United Nations sanctions monitors, exhibited many of the characteristics cited in a recent U.S. Treasury Department advisory as methods of North Korean maritime sanctions evasion, including location-data deception, using multiple flags, and ship-to-ship transfers of illicit cargo.
"This sanctions-busting ship is now out of service," said Assistant Attorney General for National Security John C. Demers.
WISE HONEST hadn't broadcast a signal depicting its location, known as its Automatic Identification System (AIS), since August 2017, prosecutors said. AIS signals are publicly available; continuous operation of AIS "is a critical factor" for safe ship operating, and it's rare for a vessel engaged in legitimate transit to turn off its AIS system, according to the complaint.
The vessel was last seen in April when the Indonesian Navy interdicted WISE HONEST off the coast of Balikpapan while it was sailing with its AIS transponder turned off and falsely flying a Sierra Leone flag, according to a March U.N. Panel of Experts report. It was carrying nearly $3 million in North Korean coal when captured; WISE HONEST intended to conduct a ship-to-ship transfer of the coal to an unnamed Russian vessel when detected by Indonesian authorities, the U.N. report said.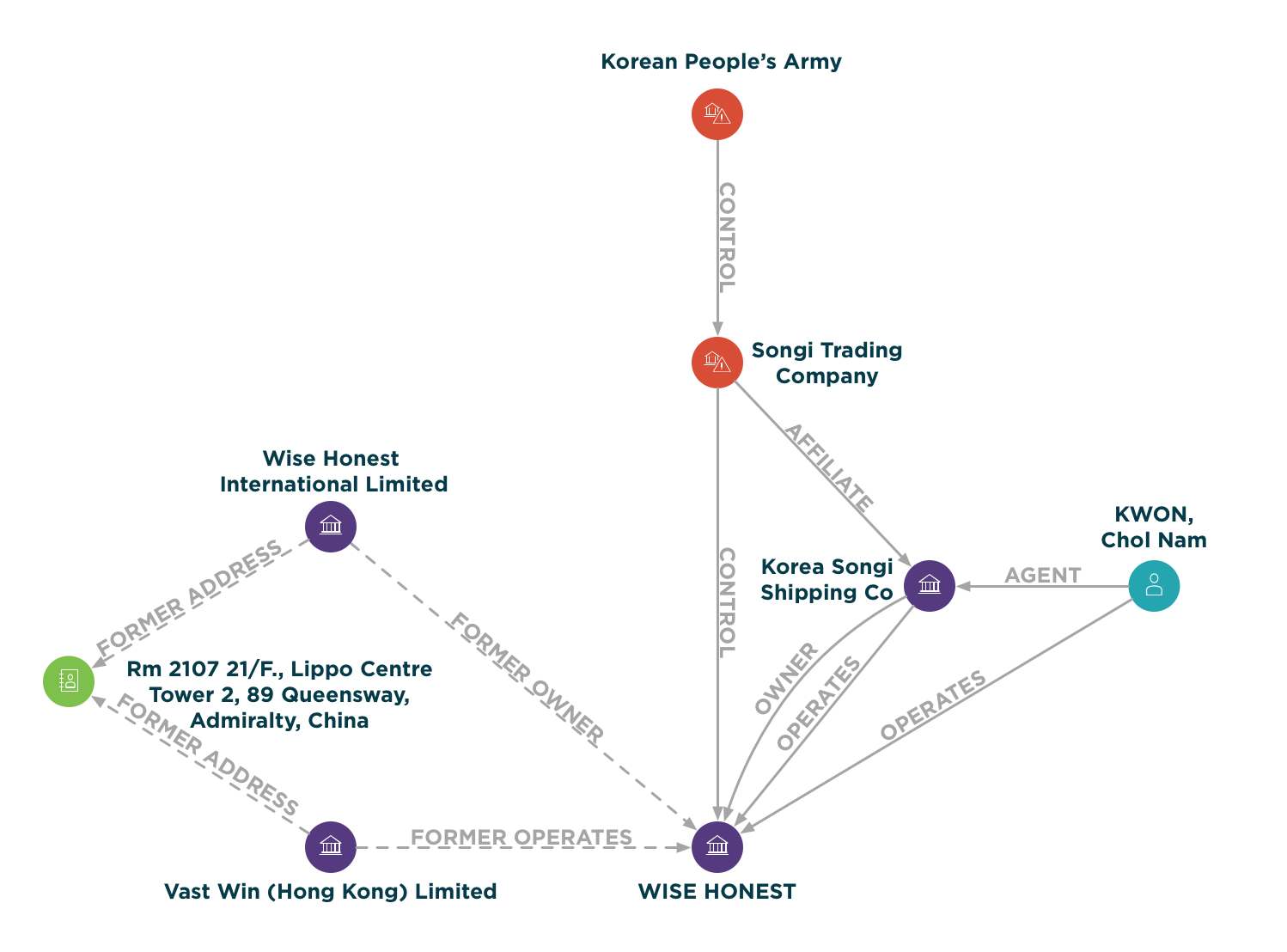 A U.S. magistrate judge in the Southern District of New York issued a warrant in July 2018 authorizing the vessel's seizure, according to the civil complaint. U.S. officials said Thursday that WISE HONEST was approaching U.S. territorial waters in American Samoa, in coordination with U.S. Marshals and the Coast Guard.
Payments for maintenance, equipment and improvements of the vessel were made in U.S. dollars and through unwitting U.S. banks, which violates U.S. law and U.N. Security Council resolutions, the prosecutors said. The complaint also cited more than $750,000 in payments transmitted through the correspondent accounts of a U.S. bank based in New York that was connected to a March 2018 shipment of coal from North Korea aboard WISE HONEST.
WISE HONEST's registered owner is Korea Songi Shipping Company, an affiliate of Korea Songi General Trading Corp., which was sanctioned in June 2017 for exporting North Korean coal. WISE HONEST's ownership and operation were transferred to Korea Songi Shipping in January 2018 and November 2016, respectively, from Hong Kong-based companies Wise Honest International Ltd. and Vast Win (Hong Kong) Ltd., according to maritime data. The Hong Kong firms were since dissolved, corporate records show. The complaint said the transfer purportedly took place in February 2017, citing a letter bearing Korea Songi General Trading's letterhead.
The vessel is controlled by Songi General Trading, prosecutors said, citing "materials obtained from a communications account associated with" Kwon Chol Nam, a representative of Korea Songi Shipping. According to the U.S. Treasury, Songi General Trading is a subordinate of the Korean People's Army, which was also sanctioned in June 2017.
Kwon, Songi General Trading, and Korea Songi Shipping have extensively used WISE HONEST in the illicit shipment of coal from North Korea, prosecutors said, citing cases of anthracite coal transported from Nampo, North Korea to a port in China. Another shipment cited by prosecutors had a clause in the contract for the owner of WISE HONEST to "take the ship through one safe port in Russia," where false cargo documents would be prepared before the vessel continued its journey.
Kwon and the two companies were also involved in transporting heavy machinery to North Korea, the complaint said, citing one example of a 2016 shipment that included items described as "down the hole" drills, "cone crushers," an "overflow ball mill" and more than 412,000 kilograms of steel plate from Yantai Port in Shanghai, China. Though WISE HONEST was the vessel carrying the cargo, the nationality of the vessel was listed on the manifest as Tanzania, according to the complaint.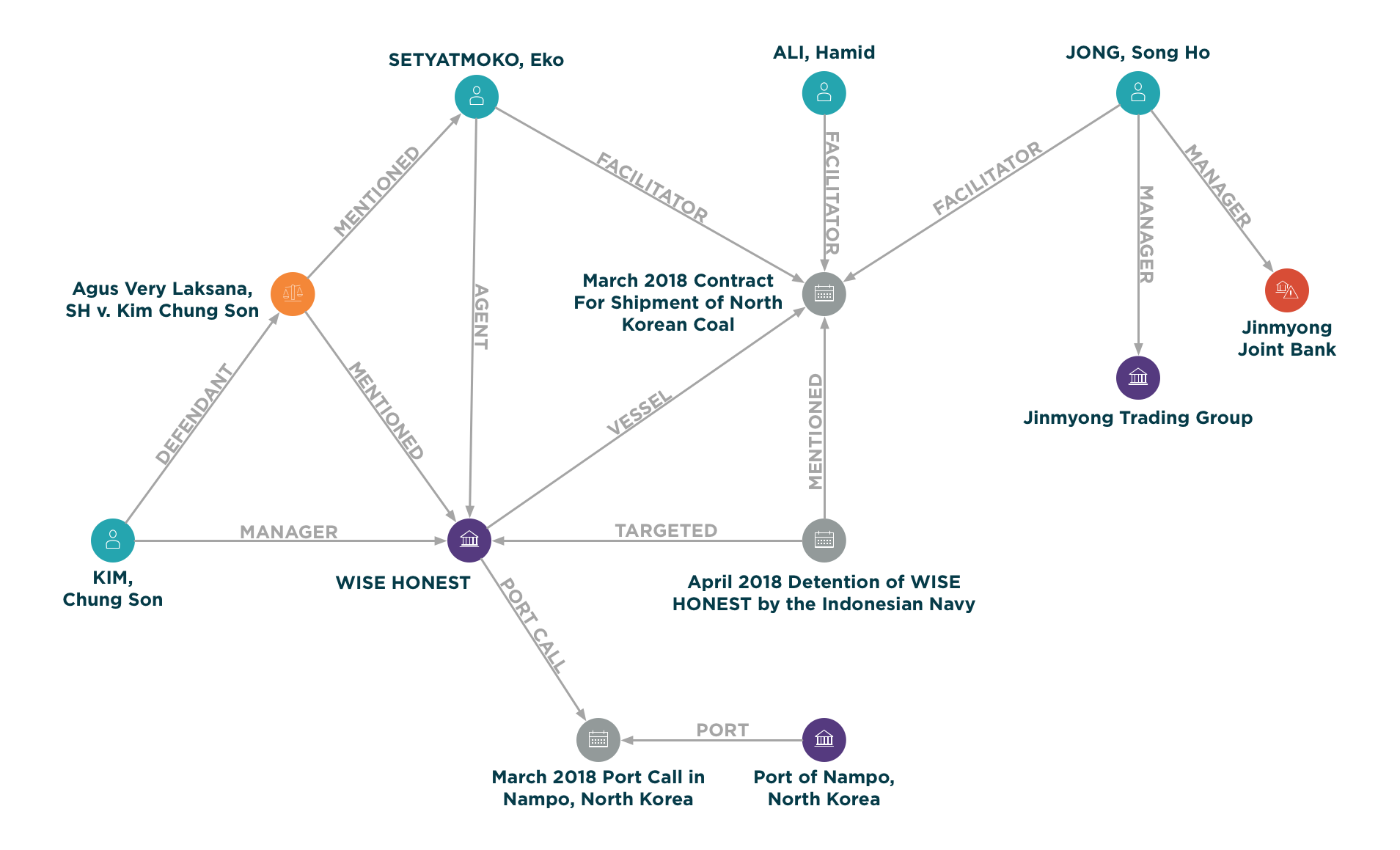 The final voyage of WISE HONEST began on March 14, 2018, according to prosecutors, using satellite imagery to take a high-resolution photo of a vessel matching WISE HONEST's unique description docked that day at Nampo, North Korea, with large quantities of what appeared to be coal alongside the docks and in warehouses adjacent to it. The photo also depicts cranes and other equipment used to load coal, with one of the WISE HONEST's cargo hatches open, showing coal in the cargo hold, prosecutors said.
The coal shipment was organized by Indonesian commodities brokers Hamid Ali and Eko Setyatmoko, and North Korean businessman Jong Song Ho, president of Jinmyong Joint Bank, according to U.N. sanctions monitors. Jinmyong Joint Bank was sanctioned in September 2017 for its role in the North Korean financial services sector.
Indonesian authorities intercepted and detained the vessel almost three weeks later. The captain of the vessel was convicted by an Indonesian court in November 2018 on charges related to improper documentation for WISE HONEST, the U.S. complaint said, citing the use of false documents saying the coal was loaded at Nakhodka, Russia, a port city near Vladivostok.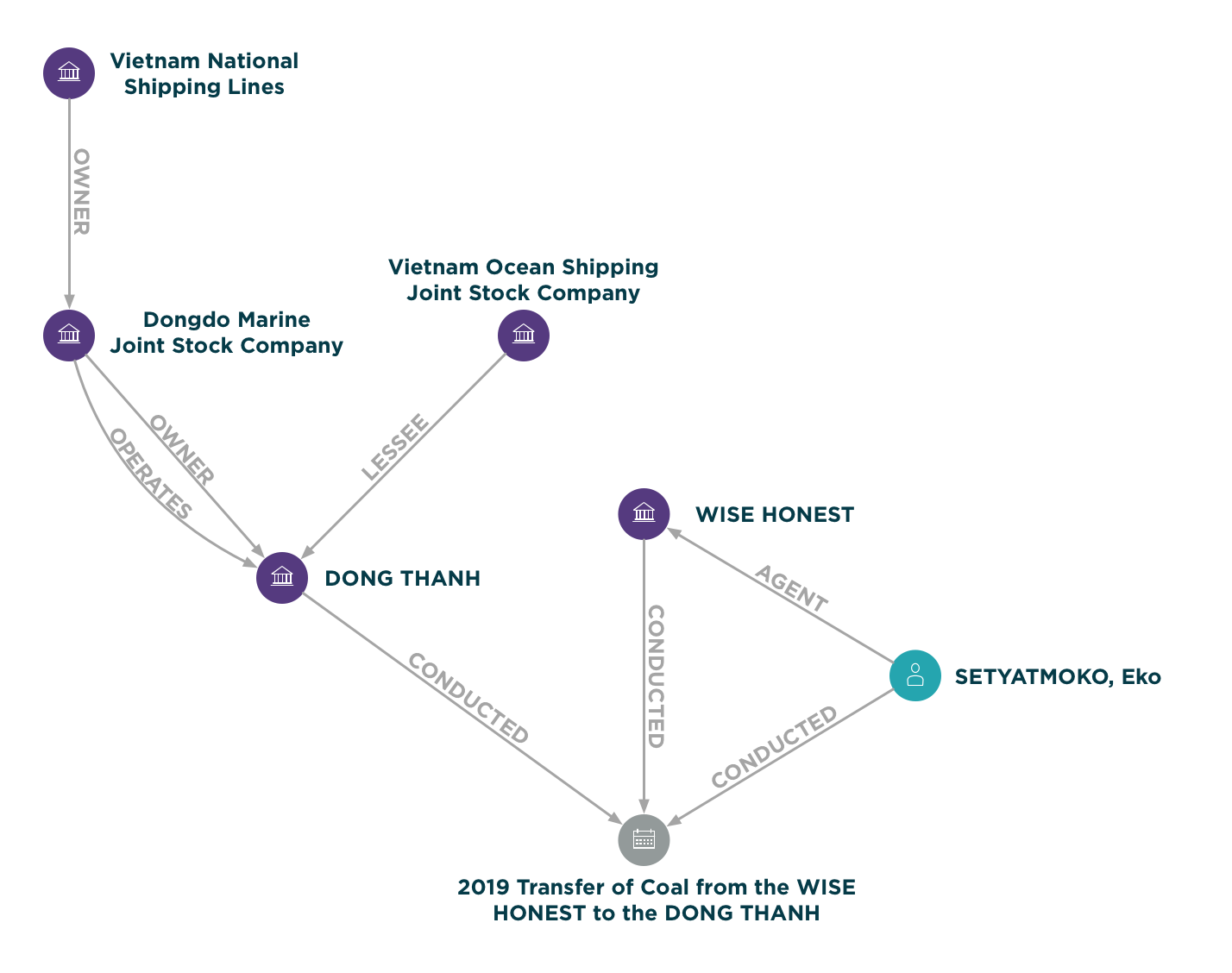 Last month, Indonesia told U.N. sanctions monitors that it was "gradually repatriating" the WISE HONEST's crew members upon completion of their legal proceedings, which were finalized Feb. 19. The vessel has been subject to seizure since the Indonesian government "approved the request of a third country for that measure to be imposed through procedures related to mutual legal assistance in criminal matters."
However, the November 2018 decision allowed the coal to be returned to Setyatmoko, according to Balikpapan District Court judicial documents. An April 2019 report by Voice of America reported that the coal was formally released in February, before being transferred to the DONG THANH, a Panama-flagged vessel owned and operated by a subsidiary of a Vietnamese state-owned shipping company.
The DONG THANH arrived near the waters of Kemaman Port in Malaysia on April 19 to discharge the coal, but local authorities refused to allow the vessel entry. The Vietnamese company that chartered the DONG THANH to carry the coal said in an interview with Voice Of America that they were "victims of fraud by the broker channel that identified Indonesia as the origin" of the cargo.