U.S. Steps Up Battle for Arctic Control With Plans for Icebreaker Fleet
The Polar Star, the lone U.S. heavy icebreaker vessel, breaks through Antarctic ice in 2017. Photo: U.S. Coast Guard
By Abigail Buhrman and Samuel Rubenfeld
Tuesday, June 9, 2020
The U.S. wants to procure a new fleet of icebreaker vessels by 2029, stepping up a battle for control of waterways in the Arctic as sea lanes open amid rising global temperatures.
In a memo issued Tuesday, the White House said the U.S. "will develop and execute" a program to acquire a polar security icebreaking fleet. Though the memo does not specify how many vessels the U.S. plans to buy, it calls for a study of the benefits and risks of a fleet that includes at least three heavy polar-class security cutter (PSC) vessels. It also requires an assessment of potential use cases in the Arctic of medium PSCs and how their performance would differ from the anticipated use of heavier vessels for the same activities. 
The current U.S. polar fleet consists of one heavy and one medium icebreaker vessel, according to the U.S. Coast Guard. The U.S. Navy is making regular trips to the Arctic Circle for the first time since the end of the Cold War, according to a media report. The new vessels would be used for a variety of U.S. national security objectives, the White House memo said. 
The pursuit of new icebreakers comes amid a broader struggle between the U.S., China and Russia for control of the Arctic. A growing partnership between Russia and China is advancing both countries' interests in the region, the New York Times reported in May 2019. China, which in 2018 declared itself a "Near-Arctic State," last year launched its second icebreaker, called the Xuelong 2, or Snow Dragon 2. During his confirmation hearing last month, U.S. Navy Secretary Kenneth Braithwaite mentioned the Arctic 35 times, saying at one point, according to a Nikkei report: "The Chinese and the Russians are everywhere."
In a speech in Finland in May 2019, Secretary of State Mike Pompeo said China's "aggressive behavior elsewhere should inform what we do and how it might treat the Arctic," and Russia's "actions [there] deserve special attention." Partly in response to Russia's activities, the U.S. is rebuilding its icebreaker fleet, hosting military exercises, strengthening its force presence, expanding Coast Guard funding and creating a senior post for Arctic affairs in the U.S. military, Pompeo said.
"Just because the Arctic is a place of wilderness does not mean it should become a place of lawlessness," Pompeo said. 
In the short- and mid-term, the U.S. will identify potential leasing options as the U.S. Coast Guard's lone heavy PSC, the Polar Star, degrades after decades of use, according to the White House memo. The Polar Star was commissioned in 1976; it has conducted six deployments in Antarctica since 2013. Coast Guard Commandant Adm. Karl Schultz told lawmakers in March that China could have more ice breaking capacity by 2025 than the U.S. government. 
The Coast Guard wanted to procure three heavy PSCs and three medium vessels, according to a report last month from National Defense magazine. The lead vessel is scheduled for delivery in 2024, the magazine reported, citing Congressional testimony from Schultz. 
U.S. arctic ambitions also follow the launch of Russia's first Aframax oil tanker on May 12 at a massive Russian shipyard that is said to be a top priority of President Vladimir Putin. 
Zvezda, Russia's Far East 'Star'
The 250-meter-long vessel, called the Vladimir Monomakh, was commissioned by Russian oil giant Rosneft. Its launch, held at the Zvezda shipyard, required the use of a special floating transfer dock, according to a Russian media report. Zvezda has another 12 orders in its portfolio for vessels of its type, Rosneft said in a press release.  
Zvezda, located in Russia's Far East and named for the Russian word meaning "star," aims to produce vessels never before built in Russia amid Moscow's push to become the world's largest natural-gas producer by extracting natural resources along the country's Arctic continental shelf. Russia operates the world's largest icebreaker fleet; Moscow has a 120-year-long history of cracking ice in the Arctic, Radio Free Europe reported in January.    
Kremlin spokesman Dmitry Peskov has described the shipyard as a project Putin "keeps under personal control." The Zvezda shipyard project aspires to build drilling platforms, commercial vessels and gas carriers. Construction of the shipyard began in 2009 and is slated for completion in 2024, though parts are already functional.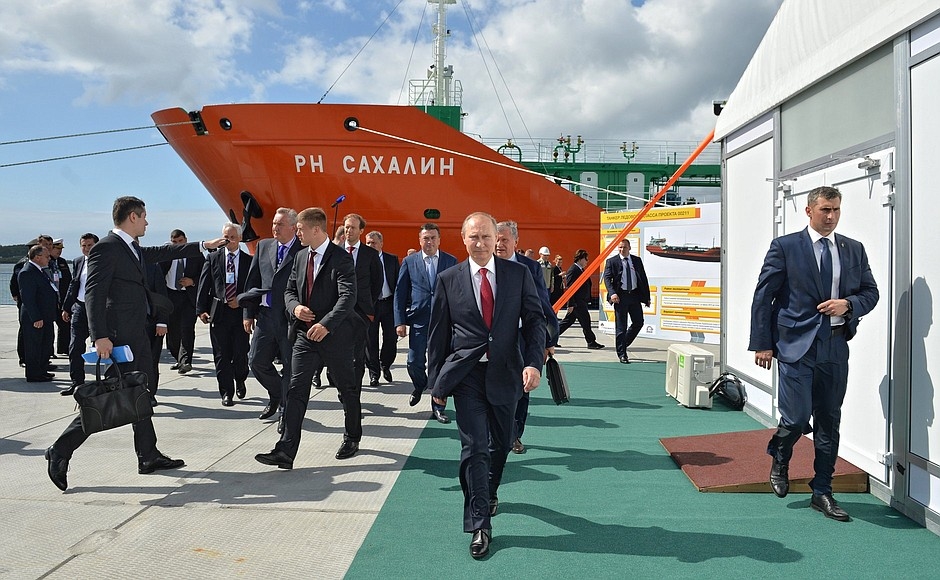 Zvezda also signed a deal in April with a subsidiary of Rosatom, the country's nuclear energy corporation, to build the world's most powerful nuclear icebreaker vessels. Rosatom plans to expand its fleet of nuclear icebreakers with at least seven additional vessels, including the icebreakers to be built by Zvezda. The shipyard has no experience with nuclear projects, however. 
The contract is part of a bid to boost trade on Arctic shipping routes along Russia's northern coast, which could rival the Suez Canal as a shortcut between Europe and Asia, Reuters reported. 
Aleksey Rakhmanov, the president of United Shipbuilding Corporation, called the decision to build icebreakers at Zvezda "political" in an October 2018 interview. All of Russia's modern icebreakers have previously been built by Baltic Shipyard, a majority-owned subsidiary of United Shipbuilding.
Zvezda supplanted United Shipbuilding Corporation, a state-owned company controlling 80 percent of Russia's shipbuilding industrythat has been hobbled by U.S. sanctions, as the company of choice to revive the country's struggling shipbuilding industry, Russian media has reported. 
Zvezda, despite the recent activity, has struggled amid accusations of protectionism, political favoritism and questions over its ability to build the vessels ordered by its customers.
Backing by Russian Energy Majors 
Igor Sechin, chairman of Russian oil giant Rosneft and a U.S.-sanctioned member of Putin's inner circle, revitalized the Zvezda shipyard project in 2013. Sechin, who is also chairman of Rosneftegaz, the majority shareholder in the shipyard, is active in his role leading the project, conducting site visits and giving Putin progress reports. He also petitioned Putin in July 2015 to require Russia's other oil and gas companies to purchase ships built at Zvezda, though the order did not go into effect. 
About RUB 200 billion will be invested in the Zvezda project by the shipyard's owners, including Rosneft, Rosneftegaz and Gazprombank, according to Sechin. Rosneftegaz alone will allocate RUB 100 billion to the shipyard's construction, Russia media outlet Interfax reported in June. The Zvezda shipyard could provide key equipment for Rosneft, which plans to purchase about 400 vessels to develop oil and gas reserves along the Arctic shelf.
Gazprombank, a Russian financial institution specializing in private banking and corporate financing, is subject to U.S. debt restrictions that cover the Russian banking and energy sectors, though its assets aren't blocked. Rosneft, Russia's largest petroleum company and its third-largest gas producer, is subject to similar debt restrictions. Two Rosneft subsidiaries, however, were sanctioned for their role in trading Venezuelan oil; the company has since sold them to the Russian government. 
The Russian government will also extend about RUB 22 billion in subsidies over the next three years to cover some of the shipyard's orders, according to a decree signed in December by then-Prime Minister Dmitry Medvedev. The subsidy comes despite Zvezda receiving limited interest from its customer base, securing only about a quarter of the orders Sechin said are necessary for Zvezda to achieve profitability. Most of the orders came from Sechin's Rosneft.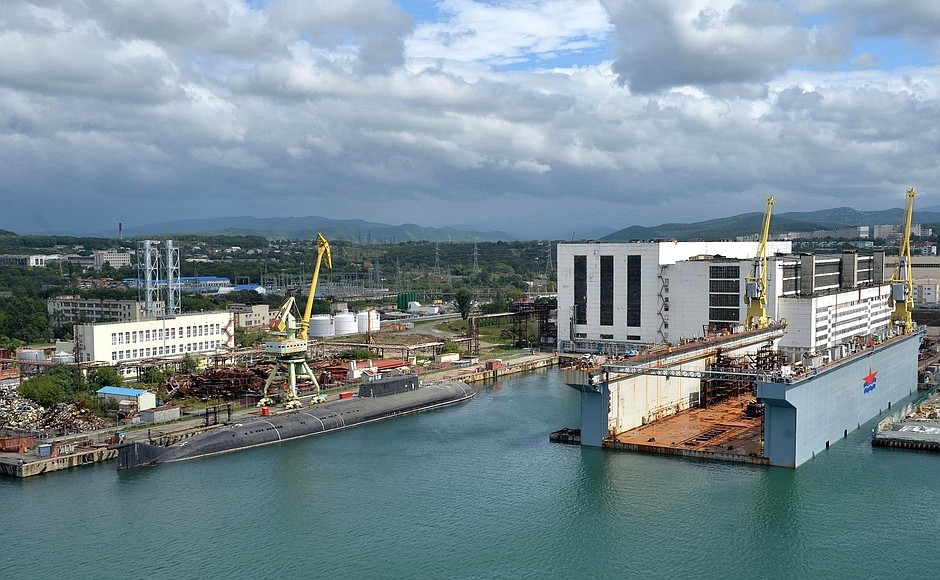 Zvezda has also experienced an array of management problems. Zvezda has severed major construction contracts in recent years, citing failures to meet deadlines. The shipyard has twice fallen out with some of its largest contractors, and major workshops still aren't complete, according to media reports. The construction failures may lead to the postponement of tanker orders, according to a Kommersant report from December 2019. Nevertheless, Rosneft said the shipyard's capabilities are sufficient to complete the vessels without pushing back deadlines.
Igor Borbot, a former Rosneft executive who previously led the company overseeing construction of Zvezda, was fired in 2014 following allegations that he embezzled at least RUB 7.5 billion from the budget for the shipyard's construction over the course of two years. He was arrested in the U.S. in 2016, and his business partner, who allegedly laundered the funds, was sentenced in 2019 by a Russian court to six years in a penal colony.
Northern Sea Route
Russia is expanding its liquefied natural gas (LNG) output through facilities located in the Arctic circle, such as the Yamal LNG terminal. 
Arctic oil has become increasingly important, as some of Russia's onshore fields run dry. Both U.S. and European Union sanctions programs prohibit drilling and exploration technology transfers to Russian oil projects located in the Arctic offshore, causing a number of Western partners to bow out of projects with companies like Rosneft and Gazprom Neft. 
Lack of local technology has left such projects languishing, the Financial Times reported in November 2019. Vessels to transport the fuel are among the resources Russia needs; the country's civil shipbuilding industry is underdeveloped, and many of the vessels acquired by oil and gas companies in recent years were built abroad. 
In an apparent effort to boost the domestic shipbuilding industry, the Russian government prohibited foreign-flagged vessels from transporting energy resources along the Northern Sea Route. The government also proposed restricting use of the route to Russian-built vessels, though the idea was tabled in 2018 due to the lack of available vessels. 
Building ships at Zvezda may cost up to 40 percent more than the market rate, according to a report by Russian business daily Vedomosti. And members of the shipbuilding industry have questioned Zvezda's ability to construct the vessels without aid from South Korean shipyards, according to media reports. 
A trio of South Korean shipbuilders - Daewoo Shipbuilding & Marine Engineering (DSME), Hyundai Heavy Industries and Samsung Heavy Industries - dominate the LNG tanker market, having won a significant share of the world's LNG tanker orders in recent years. 
South Korean shipyard Hyundai Heavy Industries constructed portions of the Vladimir Monomakh's hull and is assisting Zvezda in the construction of additional Aframax oil tankers for Rosneft. Zvezda has also signed a USD 1 billion contract with another South Korean shipyard; its reliance on South Korean design, parts and materials in building its vessels "is almost officially recognized," Kommersant reported in December 2018. 
---