By Kharon Staff
September 19, 2023
---

A recent alert by the U.S. Department of the Treasury's Financial Crimes Enforcement Network (FinCEN) highlights emerging patterns and trends of evasion of Russian export controls. This evasion is orchestrated by financial networks associated with proliferators, shell companies, and fronts in emerging transshipment countries that are enabling the movement of Western products with potential military applications to Russia.
On September 8, FinCEN issued a new Financial Trend Analysis (FTA) on Russia export control evasion patterns. The FTA is based on more than 300 Bank Secrecy Act (BSA) reports filed with the U.S. Department of the Treasury involving transactions from 2020-2023 in response to two recent joint Alerts on the topic by FinCEN and the Department of Commerce's Bureau of Industry and Security (BIS).
The BSA reports reviewed by FinCEN point to the continued export of sensitive U.S.-origin goods to end-users in Russia through intermediaries, including companies in the West. Companies that manufacture or sell industrial machinery and electronics – such as microelectronic components, imaging technology, and electromechanical tools – are increasingly at risk of facilitating Russian export control evasion, including indirectly through foreign third party intermediaries, the FTA notes.
New data gleaned from the BSA reports may "result in criminal and/or administrative sanctions" against the networks of Russian and foreign intermediaries circumventing U.S. export controls, according to FinCEN.
Less than a week after the FinCEN alert, the U.S. Departments of State and Treasury imposed new sanctions against entities and individuals evading international sanctions against Russia. This action included Finland and Turkey-based companies that made shipments of electronics to Russian end users, including items used in Russian weapons systems in Ukraine.
Battlefield Goods via Transshipment Points
Russia continues to rely on third-country entities to keep importing much-needed dual-use goods for its military production that it could previously import directly.
According to FinCEN, the BSA data identified networks of companies in China, Hong Kong, Turkey, UAE, and elsewhere in Central Asia that procure and ship banned goods to Russia. In some cases, FinCEN reviewed transactions between those companies and Russian counterparts as far back as January 2020 – demonstrating the value of pre-invasion data for establishing which companies were previously exporting to Russia and which may be at heightened risk for diversion and transshipment.
Data compiled and analyzed by Kharon indicates that an expansive network of companies in numerous transshipment jurisdictions have continued to supply Russian end-users with advanced chips, navigation equipment, and other military-related products flagged by the E.U., U.S., U.K. and Japan.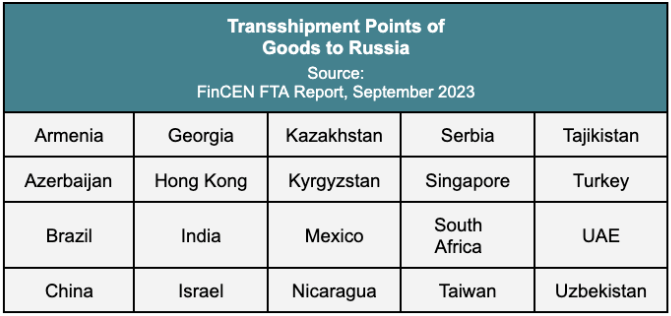 In one example, Hong Kong-registered companies owned by Russian businessmen Mikhail Vinogradov and Alexey Chichenev have exported millions of dollars of microelectronic components and other flagged HS code products to Russian customers over the past year and a half, including to companies that supply sanctioned defense firms.
Companies owned by the two Russian businessmen were founded well before the 2022 invasion of Ukraine and had previously been involved in the supply of western manufactured products directly into Russia.