By Kharon Staff
October 18, 2023
---
The U.S. Department of the Treasury imposed sanctions last week on two shipping vessels that carried Russian crude oil, violating the $60 per barrel price cap established by the Price Cap Coalition last year.
One of the ships, the SCF Primorye, was transporting crude oil from a Russian port priced above $75 per barrel, while the other, the Yasa Golden Bosphorus, carried oil priced above $80 per barrel. Both vessels used U.S.-based service providers while transporting the oil, the Treasury said.
The department also designated two companies – Lumber Marine SA and Ice Pearl Navigation Corp – as the registered owners of the two shipping vessels. Lumber Marine SA, which is based in the United Arab Emirates, is the registered owner of the SCF Primorye, while Ice Pearl Navigation Corp, based in Türkiye, is the owner of the Yasa Golden Bosphorus.
"[The] action demonstrates our continued commitment to reduce Russia's resources for its war against Ukraine and to enforce the price cap," said Deputy Secretary of the Treasury Wally Adeyemo in a statement.  
"We remain committed to implementing a price cap policy that has two goals: reducing the oil profits upon which Russia relies to wage its unjust war against Ukraine and keeping global energy markets stable and well-supplied despite turbulence caused by Russia's unprovoked invasion of Ukraine," he added.
This is the first time the U.S. or any member of the Price Cap Coalition has taken an enforcement action against entities violating the agreed price cap. The price cap was established last December by the U.S. and other G7 members, the European Union, and Australia to make it harder for Russia to use oil profits to fund its war against Ukraine. 
Kharon found that Sovcomflot, Russia's largest shipping company, is a majority owner of Lumber Marine SA, which owns the sanctioned vessel SCF Primorye. Sovcomflot was sanctioned in 2022 by various jurisdictions, including the U.K. and Canada; the U.S. and EU also imposed debt financing restrictions on the company last year. 
Kharon also found that the Yasa Golden Bosphorus is part of a fleet of vessels operated by a Türkiye-based company. In May, the Marshall Islands-flagged Yasa Golden Dardanelles oil tanker – operated by the same Turkish company – called in the Pacific port of Kozmino, Russia, a month after the sanctioned Yasa Golden Bosphorus made a stop there. 
Kozmino was flagged as an origin port through which Russia "may be trading above the price cap," according to an April 2023 OFAC alert.
The Price Cap Coalition has also released an advisory for the maritime oil industry, highlighting a series of best practices to enhance private and public sector compliance of the price cap on Russian-origin crude oil and petroleum products.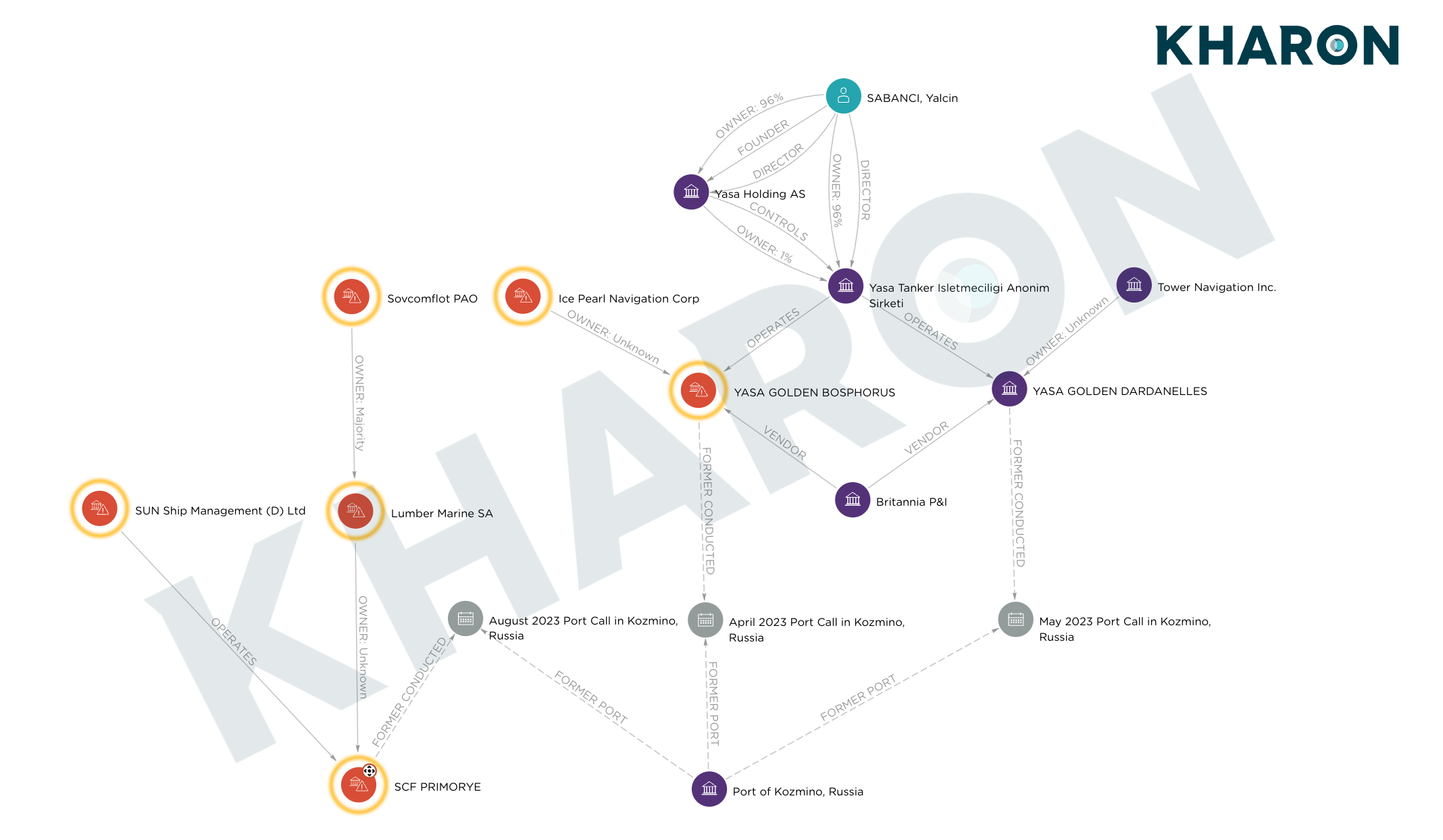 Kharon users can explore the networks of the sanctioned vessels and their registered owners in Kharon ClearView. Click here to view.