Prosecutors unsealed two separate indictments Tuesday against an Iranian man formerly based in Turkey, alleging that he exported U.S.-origin aircraft parts to sanctioned Iranian airlines, including Mahan Air.
Peyman Amiri Larijani, who was an operations manager for Turkish firm Kral Havacilik IC VE DIS Ticaret Sirketi (Kral Aviation), was charged in a 34-count indictment in April 2015, and in a four-count indictment in October 2016, which were both filed in Washington, D.C. federal court. In the U.S. Justice Department's Tuesday announcement of the indictments, officials stressed the government's "vigorous enforcement" of sanctions and export controls against Iran.  
"Our export laws are in place to prevent the shipment of goods to hostile countries and to keep items out of the hands of people who intend to harm the United States," U.S. Attorney Jessie K. Liu said.
The U.S. has continued to increase economic pressure on Iran, most recently by placing sanctions on Iran's industrial metals sectors. Tehran this week rejected an offer from Secretary of State Mike Pompeo for talks "without preconditions," saying it was mere "word play" amid the administration's escalating maximum-pressure campaign. President Donald Trump said "there's always a chance" of military action but added that he'd rather talk.
Larijani and Kral Aviation bought U.S.-origin aircraft parts from American companies between 2010 and 2012 and exported them to Turkey before shipping the parts to airline companies in Iran, according to the first indictment. Larijani and the company wired money to banks in the U.S. to pay for the parts and concealed the end users of the parts from U.S. sellers, prosecutors said, including Mahan Air, Kish Air and Sahand Air.
In the second indictment, Larijani, Kral Aviation, Mahan Air and several others were charged with attempting to acquire U.S.-origin aircraft engines for supply to Mahan Air, which was sanctioned by the U.S. Treasury Department in October 2011 for its support to Iran's Islamic Revolutionary Guard Corps-Qods Force (IRGC-QF). Other defendants include Mahan Air executives Mehdi Bahrami and Ghodratollah Zarei, the vice president of Europe and director of technical logistics of the airline, respectively.
The indictments were unsealed because of the arrest and extradition of another co-defendant, as well as recent investigative developments in another district, according to court records. Though the motion to unseal the indictment doesn't name that co-defendant, other court records show it was Arzu Sagsoz, a Turkish national who worked as a logistics and purchasing agent for Kral Aviation.
Sagsoz was detained in the country of Georgia and extradited to the U.S. to face charges, according to court records. She was sentenced in January to 20 months in prison after pleading guilty to a single count and admitting to her role in a conspiracy to export a U.S.-origin aircraft engine to Mahan Air.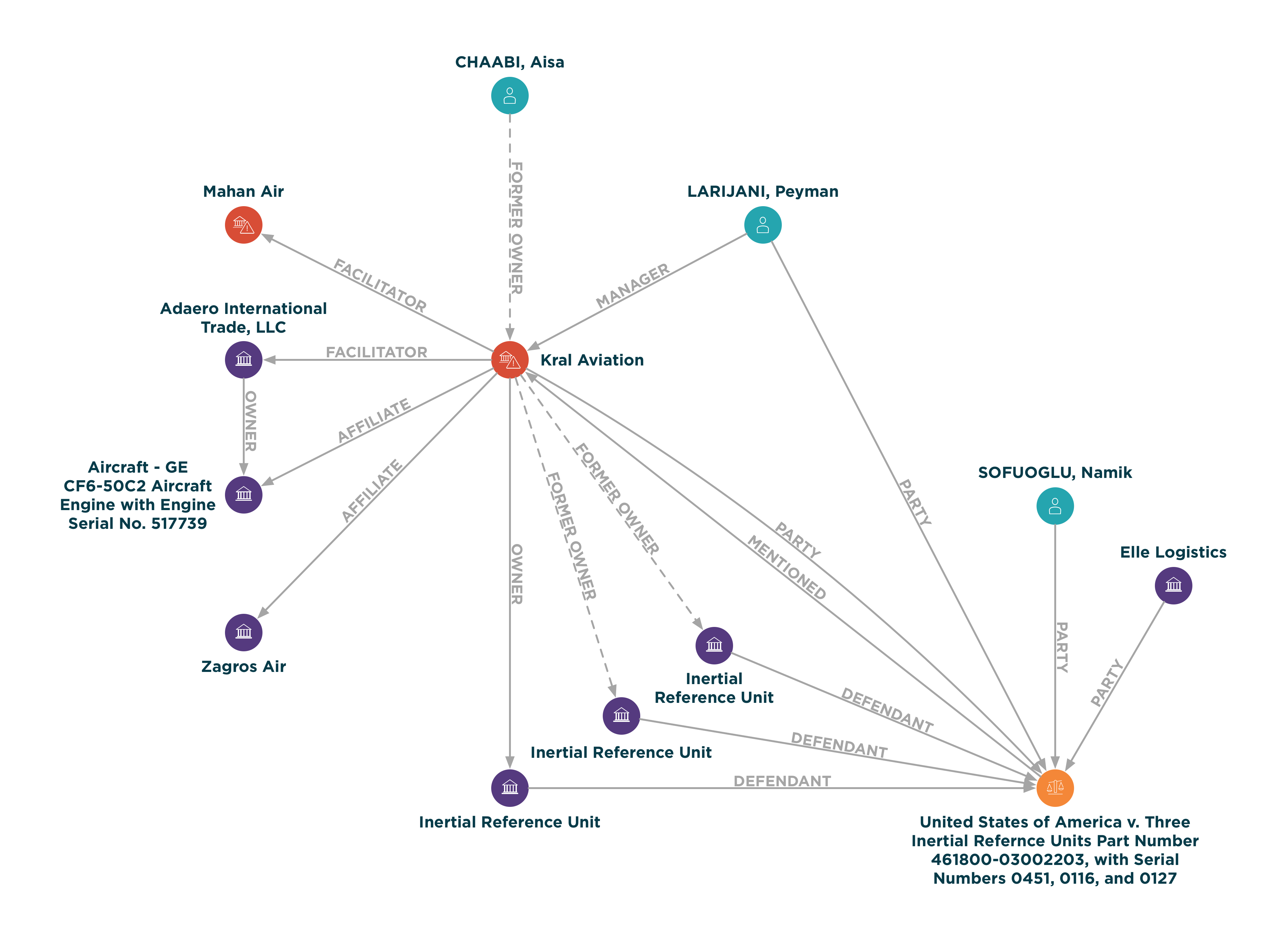 Mahan Air is also subject to U.S. Commerce Department export restrictions, and Kral Aviation, Kish Air and Sahand Air are on the department's Entity List. Bahrami is considered a "related person" to Mahan Air by the Commerce Department, who has had a relationship with the airline since 1997 and was involved in Mahan Air's acquisition of the three aircraft that led to the original restrictions. Sagsoz's guilty plea was cited in the Commerce Department's December 2018 renewal of its export denial order on Mahan Air. Kral Aviation was added to the Entity List in 2013 for its involvement in a procurement scheme to support the operations of Mahan Air.
Kral Aviation and Larijani have been mentioned in previous U.S. litigation: Three inertial reference units, an export-controlled aircraft navigation and flight stability system, were forfeited in a 2014 asset forfeiture proceeding. U.S. authorities said the inertial reference units were being prepared for export to Kral Aviation by a freight forwarder on behalf of a U.S. exporter. Neither Kral Aviation nor the exporter, which authorities didn't name, had a license to export the items. Larijani was listed as a potential claimant for the assets.
Analysts from the Iran team contributed to this report.