Virginia Firm Settles Case of 'Jetboots' Sales to Russian Military End-User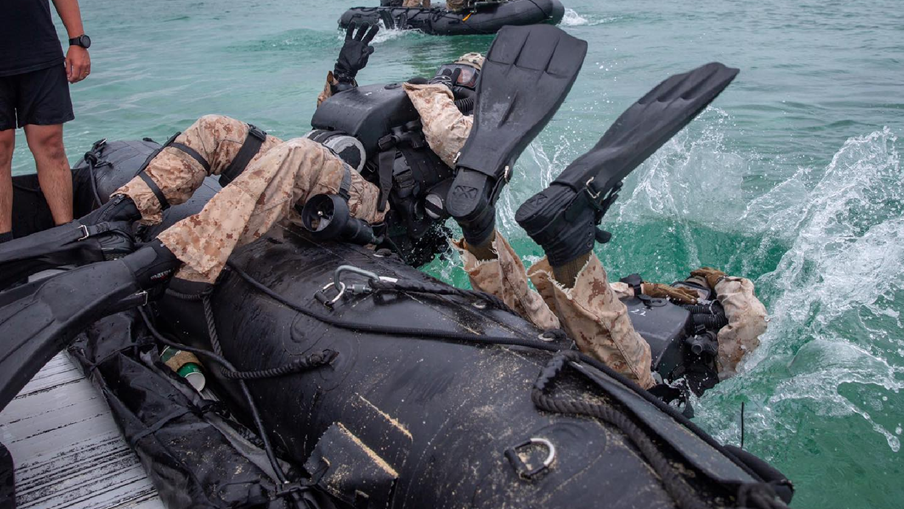 A U.S. Marine Corps reconnaissance battalion conducts training using Jetboots. (Source: Social media)
By Samuel Rubenfeld
Thursday, July 1, 2021
Patriot 3, Inc. settled a case of U.S. export controls violations after selling maritime jet boots with underwater propulsion systems to a Russian military end user, an office of the U.S. Commerce Department announced this week.
The Fredericksburg, Virginia-based company has sold more than 1,000 Jetboots, as the product is known, to more than 25 countries since 2009, according to its website. Jetboots can be used for reconnaissance, search and rescue, patrol and hull inspections, the website said. 
Patriot 3's other offerings include a number of additional maritime products, ramp systems, ballistic shields and muzzle velocity sensors. On its website, the company lists a number of police agencies in the U.S. and abroad that deploy their products in their operations. Last year, the 3rd Reconnaissance Battalion, 3rd Marine Division of the U.S. Marine Corps conducted a series of training exercises using Jetboots at Camp Schwab in Okinawa, Japan, the company said. 
In October 2014, Patriot 3 sold about USD 329,760 worth of Jetboots to Russia knowing they were destined for the government's Federal Guard Service (FSO) without the required licenses, the Commerce Department's Bureau of Industry and Security (BIS) said. The agency, which enforces U.S. export controls, said it had reached a USD 200,000 settlement with the company; Patriot 3 did not have a comment on its website as of this writing.
The sales by Patriot 3 came about a month after BIS had amended export regulations imposing a license requirement for items intended for a military end user or a military end use (MEU) in Russia, according to an order filed in the case. Patriot 3 had received email notifications about the new license requirements and continued with the order anyway, the order said.
The MEU license requirements are designed to prevent exports from enhancing the military capabilities of certain destinations, including Russia, the order said. The rules have since been expanded to cover MEU-related exports to China and Myanmar.
The settlement with Patriot 3 also follows rounds of sanctions in recent years against distributors of underwater equipment to Russian security services. 
Divetechnoservices, a Russian company, was sanctioned in June 2018, along with multiple executives, for the company's role in underwater equipment procurement for the Federal Security Service (FSB). Months later, two more Divetechnoservices executives and a number of other firms were designated for aiding its activity. On its website, Divetechnoservices had marketed products made by dozens of Western companies, Kharon reported in October 2018. 
In September 2020, the U.S. sanctioned Optima Freight OY, a Finland-based freight forwarding company, for helping Divetechnoservices with procurement for the FSB. Nikita Gennadievitch Kovalevskij, the managing director of Optima Freight, also controlled three other freight forwarding companies, the U.S. Treasury Department said at the time. 
---