Xinjiang Cotton Imports Banned by U.S.
The region-wide prohibition follows increasing U.S. warnings on supply chain risks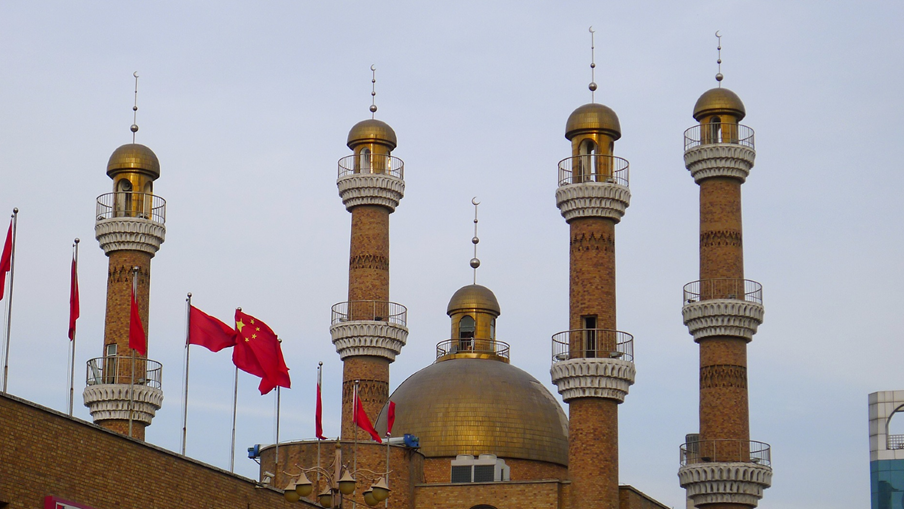 The grand bazaar in Urumqi, Xinjiang, China.
By Samuel Rubenfeld and Edmund Xu
Wednesday, January 13, 2021
The U.S. on Wednesday banned imports of all cotton and tomato products produced in the Xinjiang region of China, citing indications of forced and prison labor.
The import ban, imposed by U.S. Customs and Border Protection (CBP), targets shipments of various products, including apparel, textiles, tomato seeds, canned tomato sauce and other goods, the agency said. The U.S. government in July had warned companies about the risks of forced labor in their supply chains coming from the Xinjiang region, an area in far northwest China home to millions of Uighur Muslims who are subjected to systemic human rights abuses. 
"[The Department of Homeland Security] will not tolerate forced labor of any kind in U.S. supply chains," said Acting Deputy Secretary Ken Cuccinelli.
Under the Withhold Release Order (WRO) announced Wednesday, the items will be detained at U.S. ports of entry, CBP said. The agency has vastly increased its use of WROs to block forced-labor trade from China, Kharon reported in June. Late last year, CBP issued a WRO banning imports of cotton products produced by Xinjiang Production and Construction Corps (XPCC), a sprawling government entity sanctioned in July over its role in human rights abuses. 
Uighurs and other ethnic minorities in Xinjiang are subject to mass detention, religious persecution, psychological abuse, forced labor, systemic surveillance and political indoctrination, according to the U.S. and other Western governments. Earlier this week, the U.K. government announced it would issue guidance about the risks to companies with links to Xinjiang and introduce fines for businesses that don't comply with supply-chain transparency obligations.
The region-wide import ban has been discussed for months by Trump administration officials as they introduced narrower WROs against specific products and companies, according to media reports. Prison labor is rife throughout the Xinjiang cotton sector supply chain, where more than 80 percent of Chinese cotton is grown and processed, according to a U.S. government advisory. Cotton from Xinjiang exported by Chinese trading firms may end up in garments sold at U.S. retailers, Kharon reported in September.
Companies in the U.S. retail, apparel and fashion industries "remain outraged by the reports of forced labor" in the Xinjiang region and look forward to working with CBP to ensure enforcement is targeted and effective, trade groups representing each sector said in a joint statement. 
"We urge CBP to share with industry the evidence gathered, and the evidentiary thresholds used, that led to today's announcement," the statement said. "Additionally, we ask CBP to share enforcement actions so that industry can further inform their due diligence and amplify and expand CBP's enforcement efforts."
The U.S. ban on cotton from Xinjiang comes amid media reports that companies have used forced labor from Uighurs to produce personal protective equipment (PPE) shipped to the West amid the ongoing COVID-19 pandemic. 
An agent processing site of Xinjiang Qixin Apparel Co., Ltd., a China-based company that shares an address with a women's prison in Xinjiang, has since July sold facemasks and other PPE on a prominent Chinese e-commerce platform, Kharon reported late last year.
The U.K. government procured GBP 122 million worth of PPE from Winner Medical Co., which sources cotton from XPCC, The Telegraph reported last week. 
Winner Medical, a firm trading shares on the Shenzhen Stock Exchange, is deeply intertwined in the global supply chain, according to a review of its disclosures by Kharon. Customers of Winner Medical include large healthcare providers and retailers across Europe, the U.S. and East Asia, corporate records and trade data show. 
Much of Winner Medical's cotton is sourced from Xinjiang and its main supplier is China National Cotton Group, according to a December 2019 stock prospectus. China National Cotton Group has a large presence in Xinjiang, including deep business ties through joint ventures and cooperation agreements with XPCC, corporate records and press releases show.
Other Chinese cotton firms that have disclosed significant supply chain ties with XPCC and its subsidiaries include Jiangsu Sinocot International Trade Co., Ltd. and Xiamen ITG Group, Kharon previously reported.
---